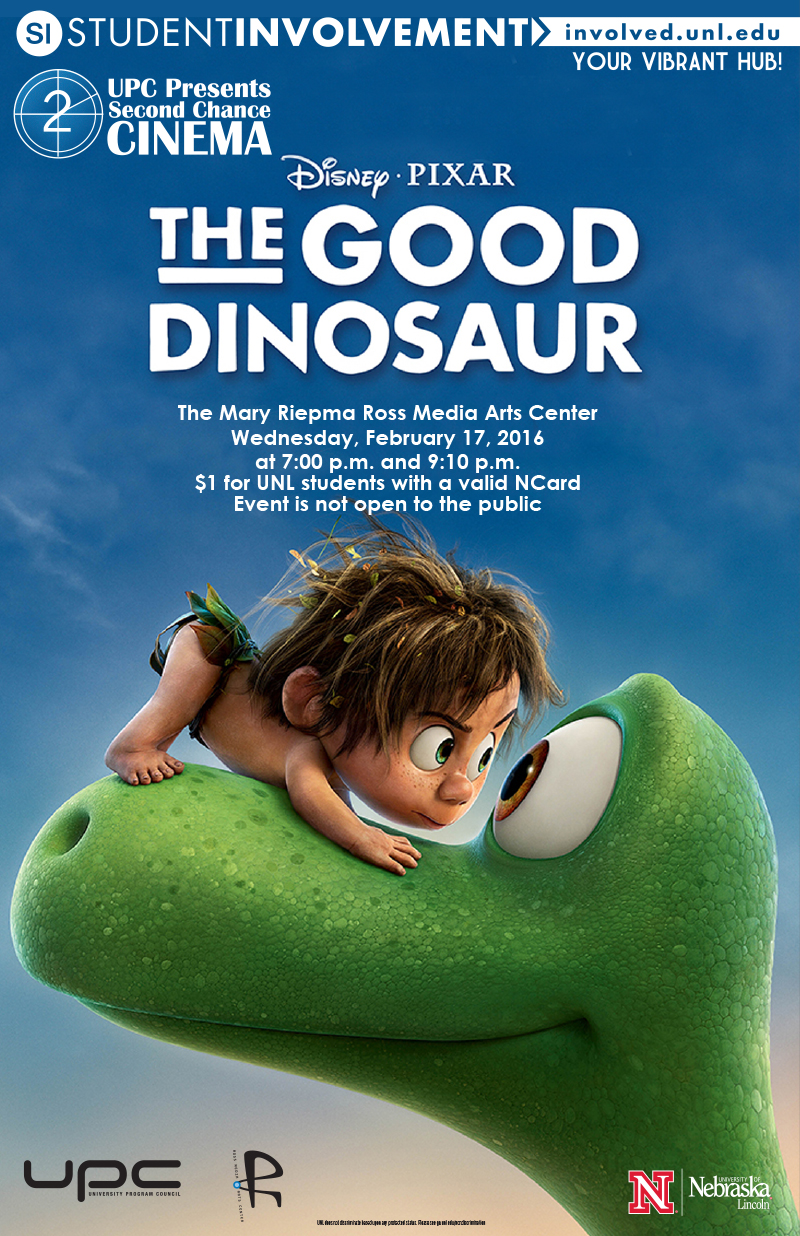 UPC PRESENTS: SECOND CHANCE CINEMA TO FEATURE THE GOOD DINOSAUR
(Lincoln, NE) February 17, 2016 – The University Program Council (UPC) presents the film, The Good Dinosaur, as part of the Second Chance Cinema movie series. The film will be showing at the Mary Riepma Ross Media Arts Center, 313 N. 13th St, Lincoln, NE 68508, on Wednesday, February 17, 2016 at 7:00pm and 9:10pm. The admission is only $1.00 for UNL students with a valid NCard. This event is not open to the public.
In a world where dinosaurs and humans live side-by-side, an Apatosaurus named Arlo makes an unlikely human friend. Luckily for young Arlo, his parents (Jeffrey Wright, Frances McDormand) and his two siblings, the mighty dinosaurs were not wiped out 65 million years ago. When a rainstorm washes poor Arlo (Raymond Ochoa) downriver, he ends up bruised, battered and miles away from home. Good fortune shines on the frightened dino when he meets Spot (Jack Bright), a Neanderthal boy who offers his help and friendship. Together, the unlikely duo embark on an epic adventure to reunite Arlo with his beloved family.
The University Program Council (UPC) is a student organization that provides diverse, educational and entertaining programs to enhance the UNL community. UPC acts as the executive body responsible for the implementation of programs and activities funded by University Programs and Facilities Fees (UPFF). The UPC office is located in Room 134 of the Nebraska Union on City Campus and is a functional area of Student Involvement. For more than 75 years, UPC has been providing entertainment for UNL students in the form of films, speakers, concerts and more! For more information, please visit: http://involved.unl.edu/upc or follow UPC Nebraska on Facebook, Instagram, and Twitter.
More details at: http://go.unl.edu/cyu7