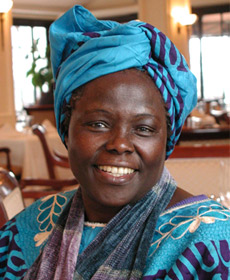 To honor the late Wangari Maathai — an internationally acclaimed environmental and political activist who died days before she was scheduled to speak at UNL as part of the E.N. Thompson Forum on World Issues — a showing of the documentary film "Taking Root: The Vision of Wangari Maathai" has been scheduled for Nov. 15.

The Thompson Forum will show the film beginning at 7 p.m. in the Nebraska Union auditorium. The documentary tells the story of the Green Belt Movement of Kenya and its founder, Maathai. The movement emphasizes community empowerment and conservation while promoting cultures of peace. As a result of the movement, women have planted more than 30 million trees on their farms and in school and church compounds across Kenya. It also helped influence the creation of similar initiatives in Tanzania, Uganda and Ethiopia, among other African countries.

The film captures a world view in which nothing is perceived as impossible and presents a profile of Maathai's 30-year journey to protect the integrally connected issues of the environment, human rights and democracy.

Maathai was to speak on those themes at UNL and would have kicked off the Thompson Forum's 2011-12 season earlier this fall, but the lecture was canceled when the Nobel Peace Prize laureate became too ill to travel. She succumbed to her battle with cancer several days later on Sept. 25 in Nairobi.

The film showing is co-sponsored by UNL's Institute for Ethnic Studies, the College of Business Administration and University Libraries.

For more information about the showing or the film, visit http://enthompson.unl.edu.

More details at: http://go.unl.edu/7an