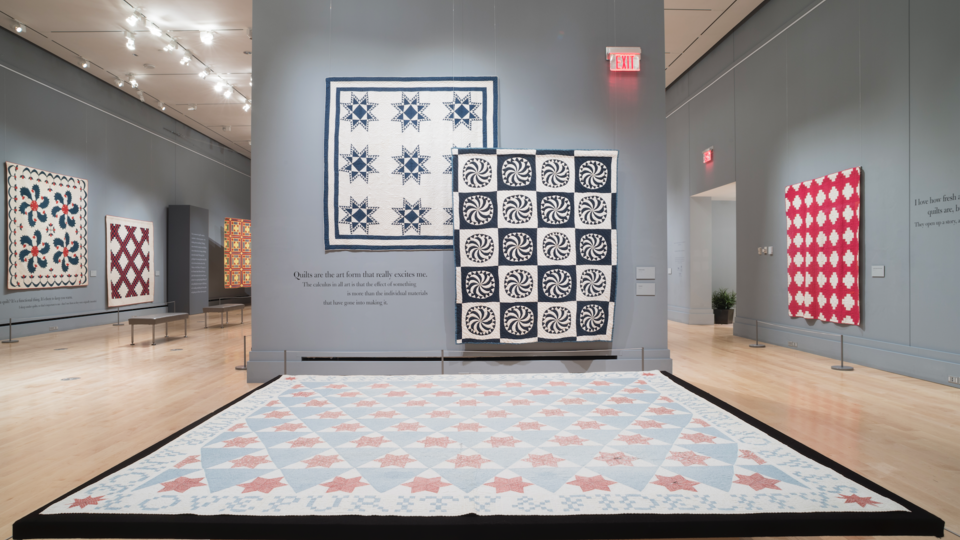 Nebraska's International Quilt Study Center and Museum is celebrating a decade of teaching about and preserving the history of quilting and patchwork.

"Singular Fascination," which shows through Aug. 30, looks at quilts by repeating a single basic shape across the entire surface of a quilt. The exhibition includes quilts from 1840 to 1960. Learn more about this exhibition.

Other 10th anniversary exhibitions at the museum include:

"War and Pieced: The Annette Gero Collection of Quilts from Military Fabrics," May 25 to Sept. 16;

"Color and Contour: Provencal Quilts and Domestic Objects," June 15 to Oct. 28;

"The Mark Dunn Collection," Sept. 7 to Jan. 12; and

"Cheddar Quilts from the Joanna Rose Collection," Sept. 28 to Feb. 10.

Learn more about events, current exhibitions and upcoming shows at the quilt study center.

On June 1, Annette Gero will deliver the Byron and Sara Rhodes Dillow Excellence Fund's International Lecture at 5:30 p.m. The presentation will offer insight into "War and Pieced," a collaborative exhibition between the museum and the American Folk Art Museum in New York City.

"We are immensely proud of what we have accomplished in our first decade as a museum," said Leslie Levy, executive director of the International Quilt Study Center and Museum. "But we have only touched the surface. We look forward to developing and expanding our collection, exhibitions and research to serve our global audience."

Since opening March 30, 2008, the museum has welcomed more than 165,000 visitors and has grown to become the world's largest publicly owned quilt collection with more than 5,000 objects. Dating from the 17th century through today, the collection comes from more than 50 countries.

With a well-established base in traditional American quilts, the museum has turned its focus to expanding its international collection, with quilts and patchwork representing traditions around the world. With significant collections from southeast Asia, southwest China and central Asia, the museum is currently building its collection of works from Africa.

"Expanding our collection to include as many regions of the world as possible is a top priority," said Marin Hanson, international curator of collections. "By doing this we are documenting and preserving the story of quilting and patchwork for future generations. In addition, by highlighting the commonalities among various global stitching traditions, we're also creating connections between people, cultures and nations."

Visitors to the museum have seen a range of exhibitions representing the museum's unparalleled collection of antique American, international and art quilts. The museum has shown solo exhibitions from contemporary artists and makers, including Nancy Crow, Michael James and Shizuko Kuroha. It has also featured works from notable private collectors, most recently the private collection of filmmaker Ken Burns.

International Quilt Study Center and Museum exhibitions and collections have traveled to museums and galleries nationwide. They have also gone to major quilt events in China, France, Japan and the United Kingdom.
More details at: https://go.unl.edu/03dz