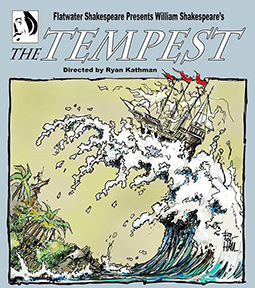 The Flatwater Shakespeare Company will present William Shakespeare's "The Tempest," one of the first English tragic comedies. You are invited to see the production and then participate in a talk back session with actors and others from the Company.

Come with us to an enchanted island where Prospero, a sorcerer and the rightful Duke of Milan, and his daughter Miranda have been marooned for twelve years. When Prospero discovers that his old enemies are sailing near the island, he creates a storm to wreck the ship. The survivors, including young Ferdinand who catches Miranda's eye, make it to shore only to fall prey to Prospero's machinations.

Register for only one performance.
Event Days/Dates:
18532EV – Sun, Jun 10
18533EV – Thu, June 14
Registration Deadline: Fri, June 1
Time: 7 p.m.
Location: The Stables at Wyuka Cemetery
Cost: $15. Cancellation after the registration deadline date will be non-refundable

Register Online: https://cehs25.unl.edu/wconnect/ace/quickpick.awp

Register by telephone: 402-472-6265
Please have your credit card handy.