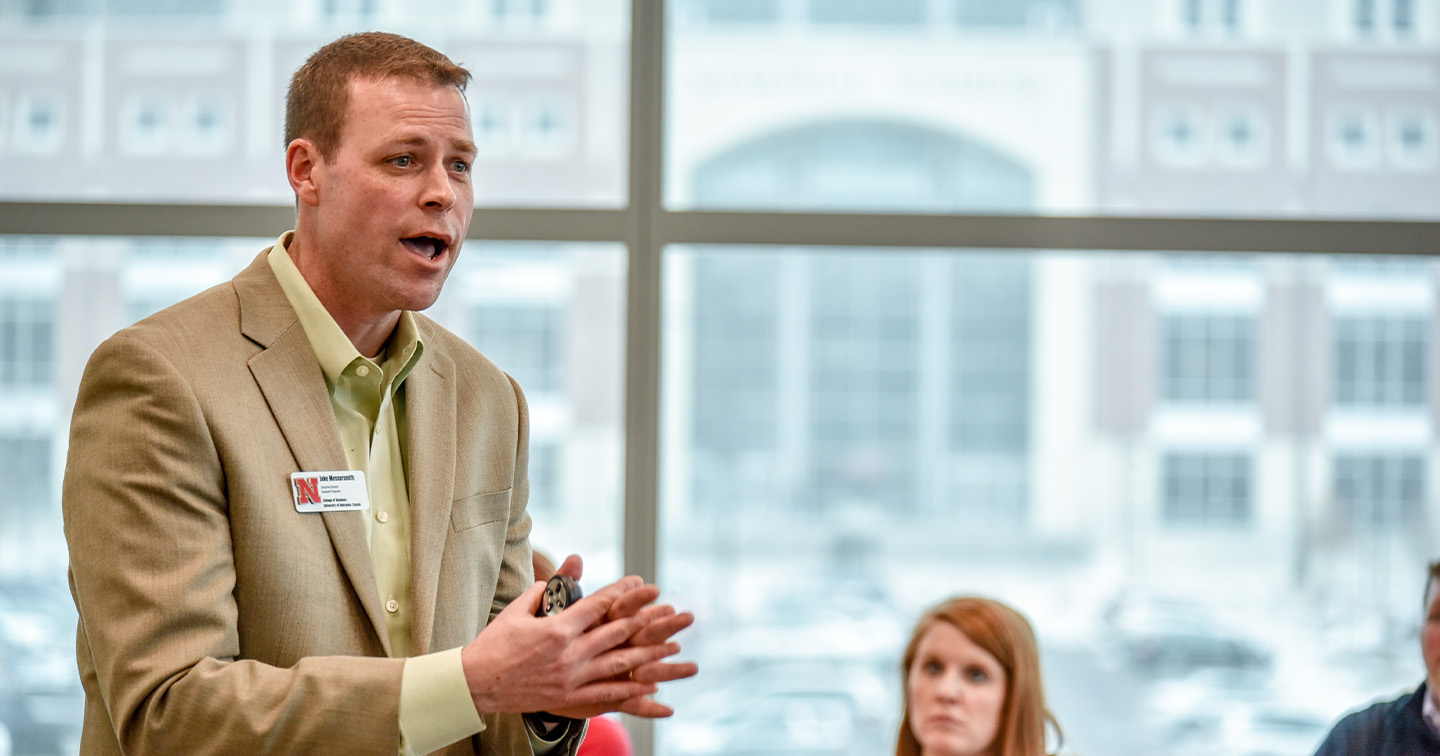 Advance your skills through the University of Nebraska–Lincoln Power Lunch Series offered through the Center for Executive and Professional Development (CEPD). Led by Nebraska faculty and staff members, the three in-person lunches held at Howard L. Hawks Hall on the university's City Campus in Lincoln facilitate thoughtful discussion around today's important topics and help build skills needed in the rapidly changing business world.

"We are excited to offer these power lunches because they focus on timely topics for the workplace including managing the five-generation workforce, motivating employees to do their best work and strategies to improve your leadership," said Emre Unlu, Paul C. Burmeister College Professor of Economics, associate professor of finance and executive director of the Center for Executive and Professional Development. "These face-to-face sessions allow facilitators to lead discussions and offer solutions as we challenge the way we think and manage our teams to lead the future of business."

The 90-minute lunch series begins Tuesday, Aug. 30. Each Tuesday session runs from 11:30 a.m. to 1 p.m. and costs $49, including lunch and parking ($44 for UNL faculty and staff). To register for one or all three lunches, visit https://business.unl.edu/powerlunch.

Lincoln Power Lunches include:

- Managing Communication and Culture in the Five-Generation Work Force with Rik Barrera and Rachel Larson, Aug. 30 — Five generations in the workforce now affect the culture of companies, and research shows managers create a positive and productive organization. Rik Barrera, associate dean of operations, inclusion and chief of staff, and Rachel Larson, assistant dean of academic and career development, focus on how the five generations think and work together, what they look for in a job or organization, how to effectively manage them and how to build a culture that makes your company an attractive place to work.

- Unlocking Motivation in the Modern Workplace with Jake Messersmith, Sept. 20 — Does money motivate? Do financial incentives crowd out creativity and intrinsic motivation? Jake Messersmith, associate professor of management, will explore the latest research on the complicated relationship between financial incentives and employee motivation to offer insights into how to build an organizational culture and system that motivates individuals and teams to do their best work.

- Leading With the Power of Positivity with Tim Hodges, Oct. 25 — The last two years have been challenging, to say the least. From the COVID-19 pandemic to political and racial unrest to wild swings in the economy and employment trends, people have been challenged to rethink and reinvent how they lead. More than 20 years of research in the fields of positive psychology and behavioral economics has led to several tangible discoveries that you can integrate into your leadership. This session, led by Timothy Hodges, executive director of the Clifton Strengths Institute and assistant professor of practice in management, will review highlights from behavioral science research and break it into tangible steps you can take to improve your life and the lives of those you lead and serve.

To learn more about Center for Executive and Professional Development customized programs and upcoming certificate programs, visit https://business.unl.edu/ExecEd.
More details at: https://business.unl.edu/powerlunch