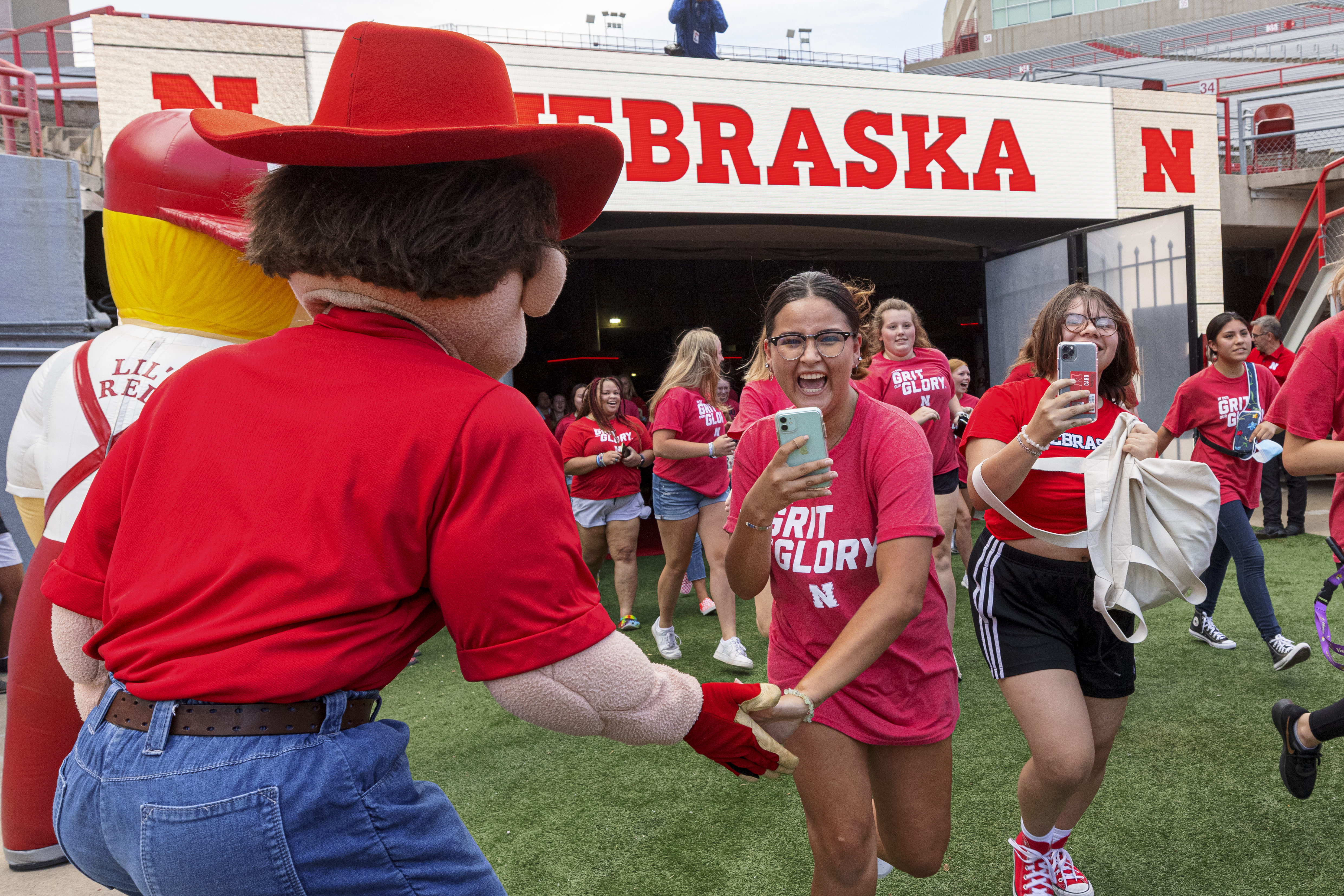 As students return to campus this fall, hundreds of events will take place during the first six weeks, known as Big Red Welcome. From ice cream bike rides and block parties to college welcome programs, the Chancellor's BBQ and a wellness festival, students will have numerous opportunities to strike up new friendships while exploring campus.

With so many activities to pick from, your student may feel overwhelmed with options. Review the following activities so you can help make suggestions to your student.

Wednesday, Aug. 17

Playfair: The Ultimate Icebreaker
Playfair is a team-building experience to help students meet one another. Its high-energy format will keep students engaged while maximizing connections. All students are welcome to attend.
Thursday, Aug. 18
College Welcome Programs
Each college and advising center will host an official welcome celebration. This is a great way for your student to connect with others in similar majors and courses as well as with faculty and staff.

Residence Hall Block Parties
Students living in the residence halls can explore their new communities while engaging in a variety of activities.
Friday, Aug. 19
Urban Plunge: First-Year Service Project
Up to 200 incoming Huskers can volunteer to participate in projects that give back to the Lincoln community. Students should sign up online to participate.

Tunnel Walk & New Student Welcome
An event not to be missed! Students will participate in the iconic tunnel walk, making the Class of 2026 "N" on the field of Memorial Stadium and receive their formal welcome from Chancellor Ronnie Green.

Chancellor's BBQ
Following the welcome, students will proceed to the Meiers Commons (greenspace near the Nebraska Union) for a BBQ dinner with lawn games. Vegan and allergen-friendly options will be available.

Husker Mania Karaoke Party
Whether belting their favorite tune or taking in the entertainment, students can enjoy this event that features numerous prizes and offers a chance to connect with student organizations, sport clubs, intramural sports, group fitness activities and outdoor adventures.
Saturday, Aug. 20
Wellness Fest
Students can start the morning with goat yoga or a pound fitness class outdoors. Various booths with well-being tips and campus resources will be on-hand as well.

Black Indigenous People of Color (BIPOC) Welcome Reception
Current and incoming students can meet students, faculty and staff to build community within the university.

Party at the Union
A memorable night of music, dancing, comedy and other performances. Students can wander a variety of activities and connect with student organizations throughout the Nebraska Union and Jackie Gaughan Multicultural Center on City Campus. To top it off, a late-night breakfast will be served just before midnight!
Sunday, Aug. 21
Street Festival
This iconic event offers students the chance to connect with hundreds of campus resources and local vendors. The freebies alone are a reason to browse.
Wednesday & Thursday, Aug. 24-25
Club Fairs
All Huskers are encouraged to join at least two student organizations – one associated with their major and another with a personal interest. Club Fairs are a great time to browse the organizations and ask questions. Fairs take place each semester to help students connect. It'll take place on City Campus on Aug. 24; and East Campus on Aug. 25.
Friday, Aug. 26
Tinashe: Big Red Lied Experience
At this unique free performance for students, multi-platinum-certified R&B disruptor singer, writer and dancer Tinashe will perform. Hosted every year, the Big Red Lied Experience features a new artist in an exclusive show that's free for UNL students.
Saturday, Aug. 27
Husker Watch Party
Students can watch on the stadium's big screen as the Huskers play the Northwestern Wildcats, live from Dublin, Ireland. The first 400 students to attend will get a special-edition t-shirt for this one-of-a-kind game.

In addition to the events listed above, more events are available on the Big Red Welcome website and student events calendar.

While it can sometimes be hard for students to branch out, attending events and inviting others to attend with them is one of the best ways for students to get to know others and find those who share common interests.