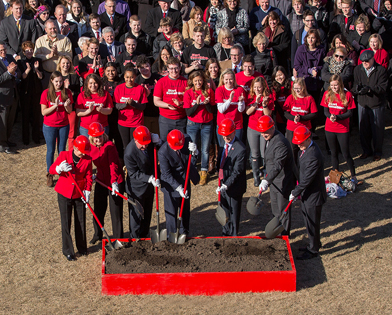 The College of Business Administration Groundbreaking Ceremony for the University of Nebraska–Lincoln building was held on Wednesday, March 4 with more than 350 university dignitaries, students, faculty, staff, alumni and business partners. A brief ceremony was held inside the Esther L. Kauffman Academic Residential Center Great Hall followed by groundbreaking at the site of the new building at 14th and Vine Streets.

The ceremony emcee was Dr. Donde Plowman, James Jr. and Susan Stuart Endowed Dean of the College of Business Administration, and included remarks from the following dignitaries: Harvey Perlman, UNL chancellor; James Linder, interim president of the University of Nebraska; Ellen Weissinger, UNL senior vice chancellor of academic affairs; Howard Hawks, University of Nebraska regent; Brian Hastings, president and chief executive officer of the University of Nebraska Foundation; Tonn Ostergard, CBA capital campaign chair; and Marjory Bell, freshman management major from Oak Park, Illinois. Rocktavo, a UNL student a capella group, provided entertainment and the Big Red Alumni Pep Band led the group outside for the ceremonial breaking of the ground at the construction site.

"The energy and excitement and vision that Dean Plowman has brought to the University is having a real impact and today is just the latest example. With Donde at the helm, the College of Business Administration is poised to become a leader in the education of the next generation of business owners, economists, accountants, marketers and entrepreneurs," said Linder. "You are now charting a course for the future – a future that is focused on providing students with the skills and experiences they need to be successful in the 21st century business world."

The $84-million, 240,000-square-foot College of Business building is the largest academic building project in recent history at UNL. Designed by Robert A.M. Stern Architects of New York and Alley Poyner Macchietto Architecture of Omaha, the building is funded exclusively from private donations from CBA alumni and business partners.

"The one thing that makes this building unique and absolutely amazing is our partners – our alumni and friends who have generously and graciously provided the funding for this magnificent project," said Plowman. "This building is truly being built by our alumni for future alumni. I thank each and every one of you for your generosity, for your belief in us and in this dream. We will be good stewards of your gifts."

The new building will celebrate the college's 100-year legacy of educating business leaders by providing a place for innovative teaching and student technology. The Big Ten college of business will offer interactive learning in state-of-the-art classrooms. It will also enable one-stop student support services and a space to host many events in the future.

"Academic buildings are only tools that help students and faculty succeed. While the building will facilitate modern teaching methodology, it will also create new and higher expectations for inspired teaching, for innovative research and for important service to Nebraska business," said Perlman. "CBA has always made a large contribution to the business talent that has driven Nebraska's economy. This building assures that our future business leaders will have the benefit of a contemporary education."

As part of Chancellor Perlman's initiative to increase enrollment at the university, the new building will have an impact on the college's ability to recruit top students and faculty to Nebraska. The new building will also assist with the university's overall recruitment efforts as any major can get a business minor (link to: http://cba.unl.edu/academic-programs/programs-and-degrees/business-minor/ ). As a business minor, students will take a course in each of the six areas of business (accounting, business law, economics, finance, marketing and management) which can be tailored to meet the student's schedule as courses are offered on-campus and online.

"In today's competitive educational environment – and for UNL to continue to attract, recruit and graduate the nation's top students – facilities like these are critical," said Hawks. "With this facility, we will better serve the needs of our students – and that in turn will help us attract even more of the best and brightest young people from and to Nebraska. When they see what we have to offer, not only this building, but our faculty, they will want to be here."

Construction on the new facility is scheduled to begin later this spring and is expected to open for the fall 2017 semester. To donate to the building, contact the University of Nebraska Foundation at 402-458-1100 or visit http://cba.unl.edu/building.
More details at: http://go.unl.edu/s93h