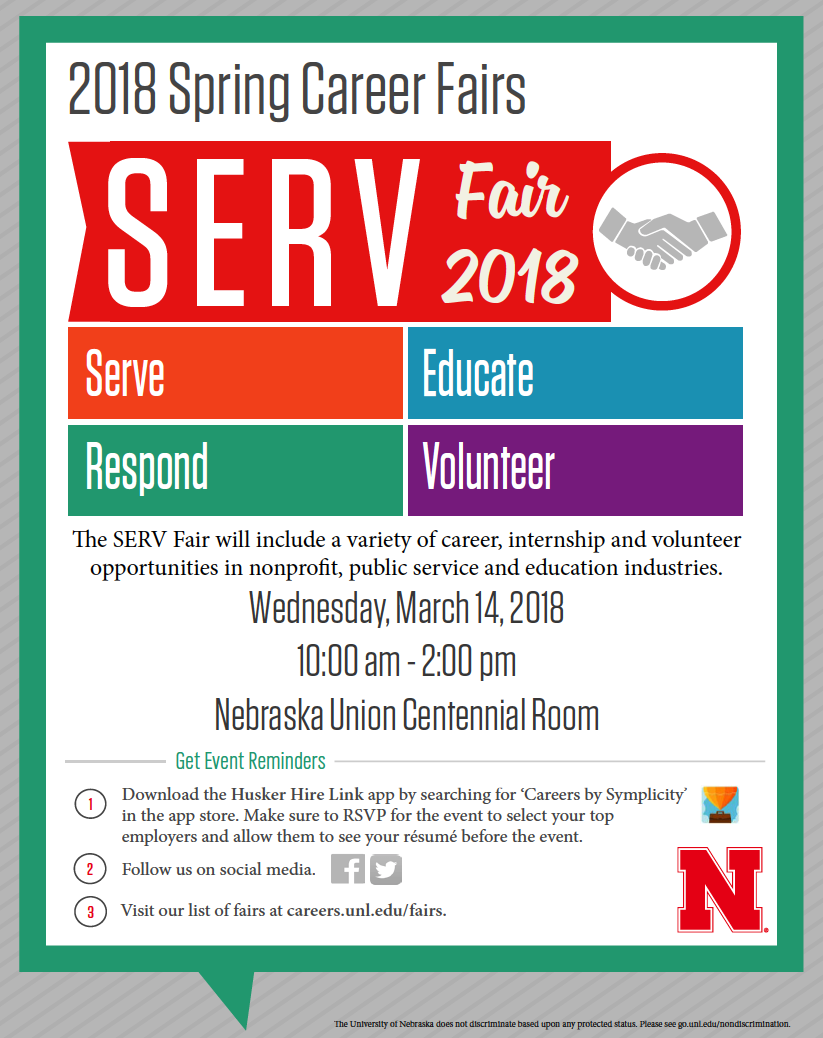 For many students, the spring semester is a defining point in their year. Not only do they need to be focused on their classes and extracurriculars, but they also need to be on the hunt for jobs and internships. One easy way to find a job that's their perfect fit is through meeting employers at career fairs.

The next career fair at Nebraska is the SERV (Serve, Educate, Respond, Volunteer) Career Fair on March 14. If they are interested in the non-profit or education world, or want to find volunteer opportunities, then this is a great event to attend.

So, now that your student knows what fair to attend- how can they stand out? Kelley McKay, a recruiter from Lincoln Electric Systems, says the best way a student can stand out at a career fair is by coming in prepared. "I would recommend that students utilize the staff in Career Services to help them with their resumes, mock interviews, and professional interview attire. The more practice a student has, the easier it will be to talk to an employer about careers when the time comes." McKay said. Tell your student they can schedule an appointment with Career Services online, or during their walk-in hours.

One part of being prepared is knowing who will be in attendance. It's important for your student to make sure they know what companies they are interested in prior to attending the fair. Eric Shuman, vet diagnostics lab supervisor at Neogen GeneSeek Operations, says, "Look into the companies that interest you most so that you know at least a little about them before meeting them at the fair. This is the first thing that lets us know that you are serious about a potential position at our organization." Students can view a full list of employers that will be represented.

Both Shuman and McKay say they have had success stories from students they've met at career fairs… your student could be next!
More details at: http://explorecenter.unl.edu/