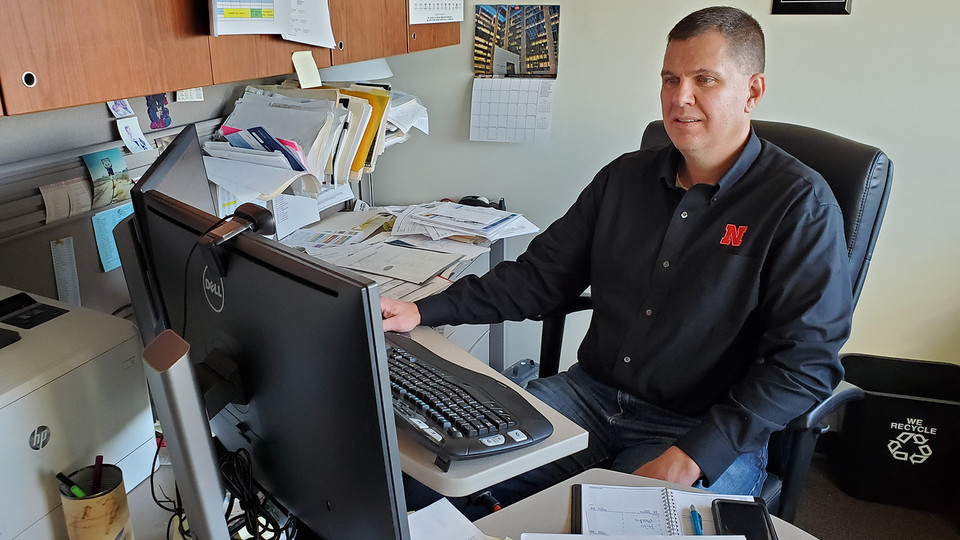 The National Drought Mitigation Center, beginning its 26th year, continues to build on partnerships with other agencies to provide drought support and prevention strategies nationally and internationally.

An $833,384 grant from the U.S. Department of Agriculture will help the University of Nebraska–Lincoln-based center advance several important initiatives in 2020 to better help landowners and communities manage the challenges of drought.

Climatologist Brian Fuchs, the grant's principal investigator, said the funding will be divided among three areas: production of the U.S. Drought Monitor, a weekly map that uses multiple data sources to provide an update on drought conditions across the country; collaboration with new USDA Climate Hubs; and an expanding list of projects from USDA leadership.

Ten climate hubs have come online in the last few years, and the drought center works with them to provide region-specific expertise and support. The hubs' purpose is to distribute timely, research-backed information to agricultural producers and natural resources professionals.

"We work with those hubs directly to identify projects, communicate with stakeholders and consider the need for new tools," Fuchs said.

Because drought plays out differently in different parts of the country, drought-mitigation tools and strategies must be flexible enough to address the varied challenges, Fuchs said.

Among the tools the drought center is developing and expanding:


Grass-Cast, a collaboration with several climate hubs, Colorado State University and the University of Arizona that helps measure drought's impact on forage production.


Forest Drought Response Index, which monitors how forest regions are affected by drought. In the past, it's been difficult to assess drought's impact on forests. This tool uses satellite data, climate data and other characteristics to identify drought-stressed areas in forests. Also, tree-ring data, used to validate the model, is showing promising results. First used in the Northeast, this tool will be expanded to more forested regions of the United States in 2020, in partnership with the U.S. Forest Service.


Other short- and long-range composite drought indices, which combine established inputs into objective drought-monitoring tools. The new blends incorporate existing data tools, including the Evaporative Demand Drought Index, Evaporative Stress Index, Vapor Pressure Difference, Vegetation Drought Response Index, Quick Drought Response Index and the Gravity Recovery and Climate Experiment and would be used by the U.S. Drought Monitor authors in making the weekly map.


Fuchs said USDA's support gives the drought center more flexibility to explore and respond to more nuanced drought-mitigation challenges.

"As the climate hubs get a better feel for what we can do for them, we're going to continue to see ideas come up," Fuchs said. "That will continue to grow and expand."

Another key project this grant will help fund is a recently begun collaboration with USDA's Office of the Chief Economist.

"For the first time we're looking at the economic impact of drought on water markets," Fuchs said.

A Nebraska post-doc student is studying the interrelationships between drought and how water rights are marketed and allocated, working with both the center and the Daugherty Water for Food Global Institute. Water markets are becoming more common, especially in the western United States where buyers and sellers trade water through leases and permanent sales.

The USDA's annual grant support also has helped fund drought center efforts to serve diverse groups, including Spanish speakers and tribal nations, and islands such as Puerto Rico, the U.S. Virgin Islands, and the U.S.-affiliated Pacific Islands. Spanish-language translations of the Drought Monitor map, narrative and brochure began in 2017, and the Drought Monitor website now provides maps and associated statistics for the Hopi, Navajo and Wind River tribal reservations.

Maps and statistics for Puerto Rico, Virgin Islands and Pacific Islands came online in spring 2019, and the Alaska map was revised to produce a better depiction of the Aleutian Islands.

The National Drought Mitigation center also continues to expand its tools for measuring drought's effects on people and communities, incorporating information from media reports, social media posts, condition-monitoring reports, photos and more. The Drought Impact Reporter, launched in 2005 as the nation's first comprehensive archive of drought impacts, now has nearly 90,000 reports and more than 26,000 impacts culled from those reports.

Dan Moser, Research and Economic Development

More details at: http://drought.unl.edu