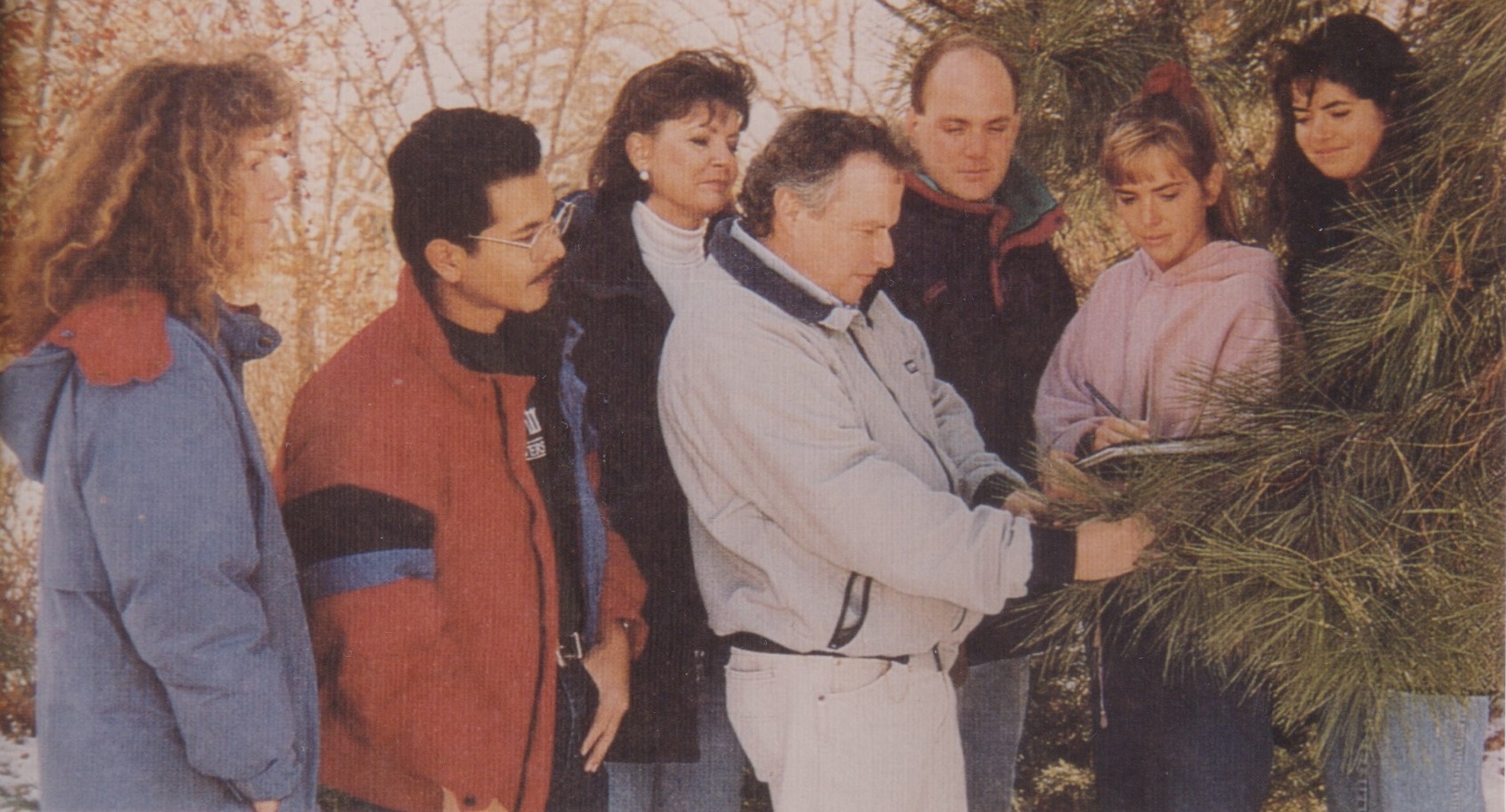 Meet Mohd Nazip Suratman, deputy vice-chancellor for Research and Innovation at the Universiti Teknologi MARA in Malaysia, who graduated in 1996 from what is now the School of Natural Resources.

What degree did you earn from UNL and in what year?
I earned an M. S. degree from the Department of Forestry, Fisheries and Wildlife then, back in 1996 under the main supervision of Professor Jim Brandle and co-supervised by Professors Laurie Hodges and Ken Hubbard.

How do you feel your SNR education prepared you for your career?
There is nothing more valuable than the experience I gained from completing my degree from UNL. It prepared me with the skills and competencies necessary to succeed and contributed to a smooth transition for my career. My research thesis on the roles windbreak shelter on sustainable agriculture in eastern Nebraska has helped me to develop a much required research skills, as I was required to work both independently and with others to create solutions. I feel that the experience of networking with a broader variety of people was truly valuable and has enhanced my communication skills. In addition, the courses I had taken throughout my study periods have taught me critical thinking skills and solving complex problems.

Who were some of your favorite (or most memorable) professors and classes?
Professors Jim Brandle, Laurie Hodges, Shashi Verma, Betty Walter-Shea, Ellen Paparozzi, Carol Gotway (to name a few) were among my favorite professors. They were great mentors to me and have changed my life. They taught me that passion is the key to learning, and always pushed me to reach my full potential.
One of my favorite classes was "Microclimate: The Biological Environment"; this class gave me an understanding of various physical factors that create the biological environment and energy balance of earth surfaces. I found this class very useful and relevant to my current research interest, i.e., remote sensing application in forestry. Meanwhile, the Landscape Ecology class taught by Professor Dennis Jelinski was also one of my favorite classes. It taught me how to use and apply the structure and function of landscape in the design, planning and management of human and natural landscapes.

Describe your non-academic activities during your time at the university.
Studying in Nebraska has provided me with opportunities to travel more widely around the country and Canada. During my time at the university, I occasionally took some time off to make trips within and around the country with my family members and Malaysian friends. A Yellowstone National Park camping trip in summer 1995 was the most memorable one.

Describe your post-SNR career path
Two years after earning an M.S. degree from UNL, I was awarded with a Canadian Commonwealth Fellowship in 1998 to pursue a Ph.D program at the Faculty of Forestry, University of British Columbia (UBC) majoring in Forest Resources Management. UBC Faculty of Forestry is Canada's largest forestry school. For my Ph.D dissertation, I decided to work on forest management as the University provided a cutting-edge research across a spectrum of disciplines related to forestry and promote international and interdisciplinary research. I love outdoors and am always excited by challenges on how forest resources can be managed sustainably.

When did your professional career begin to take shape?
My career began to take shape soon after completing my Ph.D in 2003, the same year I returned to my home country from Vancouver to continue my service as a faculty member at the Universiti Teknologi MARA (UiTM), Malaysia. My M.S. and Ph.D. degrees from UNL and UBC respectively, were valuable assets for me.

Upon returning, I have been seconded from the Faculty of Applied Sciences to several departments at UiTM to hold different portfolios. The first role given to me was at the University-Industry Linkage Center (UILC) to promote collaboration between university-industry in order to provide a vehicle to enhance innovation through knowledge exchange. Later in 2006, I was appointed as the head of strategic planning at the Center for Strategic Planning with a main task to manage the development of university strategy and its planning and implementation. In 2012, I returned to the faculty to assume a position as the Deputy Dean for Academic Affairs. My main role was to establish coordination with program heads and coordinators of the faculty to ensure the quality, continuity and integrity in academic matters were in place. From 2016 to 2018, I was transferred to two UiTM's branch campuses to serve as the Deputy Rector (Research and Innovation) and Campus Rector, respectively.

What position do you currently hold? What do you most enjoy about it and what do you find most challenging?
I am currently holding a Deputy Vice-Chancellor for Research and Innovation position of UiTM since November 15, 2018. I lead a portfolio that encompasses research performance, integrity, operations, funding, publication, consultation, innovation and commercialization. I report to the Vice-Chancellor.

The most enjoyable about this position is the opportunity to grow and provide support to young faculty members to develop themselves into well-rounded researchers.

Success, in any department, relies on the ability to create strategic goals and key performance indicators (KPIs) to measure and gauge performance over time. For me, one of the most challenging tasks is perhaps to overcome research KPIs of the University.

Would you change anything about or take anything back from your time at SNR?
The structured courses I have taken during my time at UNL have developed and equipped me with skills and fundamental knowledge required for my Master study. Apart from developing research skills, I wish I could sign up some elective courses that could harness my personal and professional skills and aptitudes to further enrich my postgraduate experience.

What advice would you give to current SNR students who aren't sure or don't feel confident about their postgraduate future?
As compared to undergraduate degree which tend to be very structured by nature, postgraduate is emphasized on individual study, therefore please be prepared and weigh up your decision prior to taking up postgraduate study.
On the positive notes, postgraduate study can open doors, enrich prospects and can be your ticket to better future career opportunities. Having a relevant postgraduate degree could give you a crucial edge in the job markets. Furthermore, in the era of Industrial Revolution 4.0, employers are increasingly looking for ways to distinguish between competent employees, therefore, having a postgraduate degree will show your ability to commit to more intense responsibility.

Any additional advice for current students?
Yes, your postgraduate study can be tough and academically challenging, but it can also be rewarding. Therefore, it is important for you to keep yourself motivated throughout your research, although it might not be easy. It is inevitable that occasionally there might be some glitches in your journey, however, look them as an opportunity to reevaluate and improve the approach of your research. Staying positive can give you more confidence and can make all the difference.