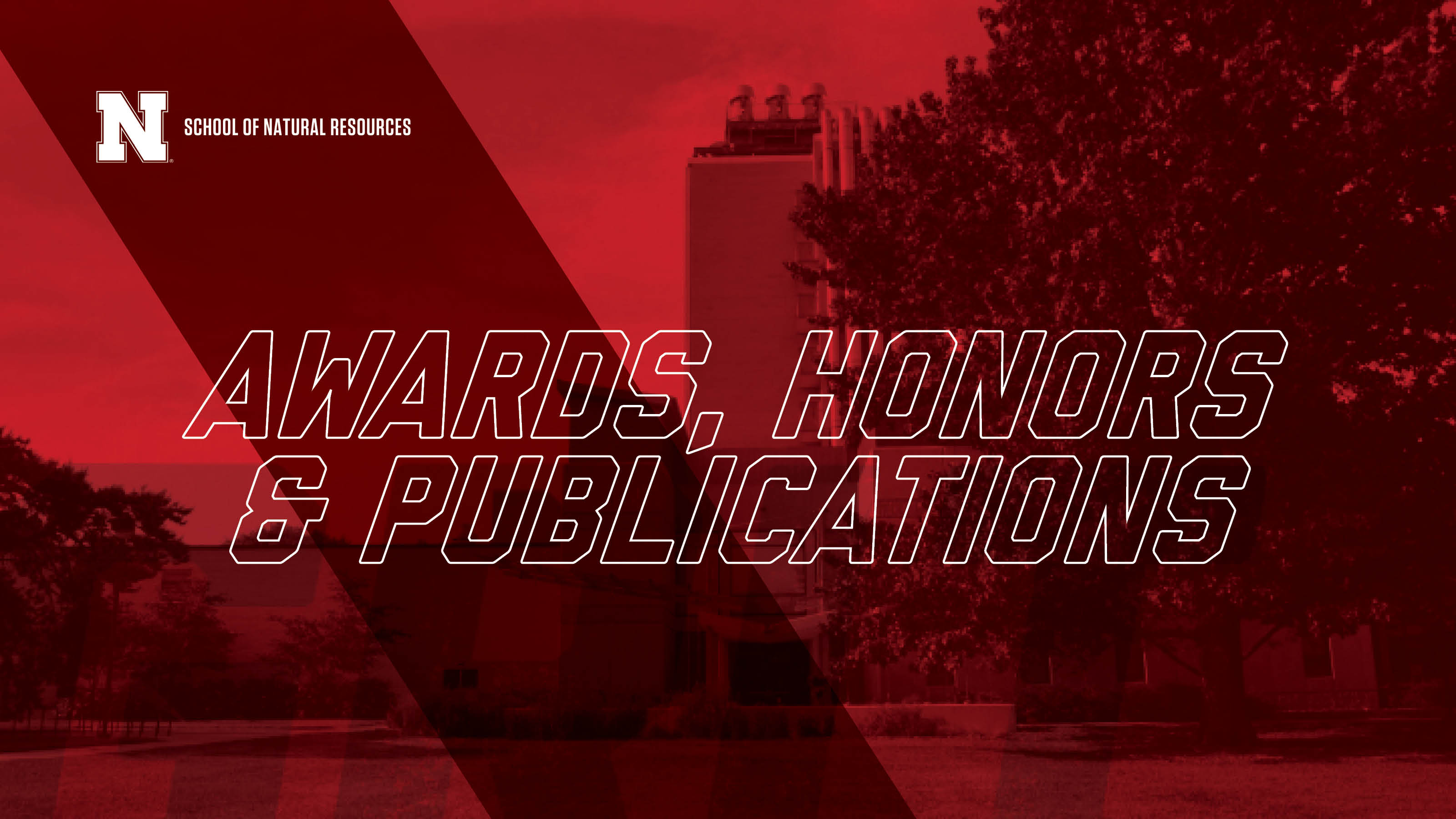 Recent achievements for the School of Natural Resources included awards earned by Joe Dauer, Jamilynn Poletto, Eric North, Judith Turk, Dennis Ferraro, Dave Gosselin, Mark Pegg, Lisa Pennisi, Elyse Watson, Sara Winn, Brittni McGuire, Kristi Patterson, Karen Gilbert and Shawna Richter-Ryerson.

Three in SNR earn Holling Family awards for teaching excellence
The Holling Family Awards for Teaching Excellence will be presented to faculty members and teaching assistants on March 11 at the Nebraska East Union. The annual awards honor outstanding teaching in the Institute of Agriculture and Natural Resources at the University of Nebraska–Lincoln.

Awards were given to senior faculty, junior faculty and teaching assistants. All three award categories emphasize imaginative and creative teaching efforts in carrying out IANR educational programs. Levels of teaching can include college campus, external campus or community.

This year's SNR recipients are:

Joe Dauer, assistant professor in the School of Natural Resources, Senior Faculty Teaching Excellence Award

Jamilynn Poletto, assistant professor, Junior Faculty Teaching Excellence Award

Eric North, assistant professor of practice, Junior Faculty Teaching Excellence Award


Turk earns Center for Transformative Teaching grant
Judith Turk, assistant professor at SNR, has earned a pedagogic intervention grant from the Center for Transformative Teaching at Nebraska.

The center offers grant opportunities to full-time faculty interested in creating transformative learning experiences that engage students in co-creating knowledge, increasing interdisciplinary inquiry, demonstrating achievement, and preparing for their futures.

"We are delighted to support this excellent project," the committee wrote to Turk in their letter of announcement.

In her role with SNR, Turk teaches Soil Evaluation and Great Plains Field Pedology, among others, and in the past has used creative activities, such as painting with soil, to teach students. This grant will support continued efforts to explore new and engaging learning experiences in her classes.


Six earn CASNR Parent's Recognition Award
Six School of Natural Resources faculty and staff were among those from University of Nebraska-Lincoln honored in a ceremony March 6 for providing support to students. They were Dennis Ferraro, professor of practice; Dave Gosselin and Mark Pegg, both professors; Lisa Pennisi, associate professor of practice; Elyse Watson, recruitment coordinator; and Sara Winn, advising coordinator.

The awards are earned through nominations made from parents of Nebraska students. Presented annually, the honors provide positive feedback to faculty and staff about their work with students. They also encourage good student and faculty relationships and provide recognition in an area often overlooked in the formal rewards system.

The Parents Association solicits nominations through an annual mailing, asking parents to nominate a faculty or staff employee who has made a significant difference in their student's life. Nominations include a short explanation of why this person was nominated.

All who were nominated by at least one parent or student and who are still with the university received a certificate. The annual recognition ceremony was organized by the Office of Student Affairs and co-sponsored by the Teaching Council and the Parents Association. Certificates of recognition for contributions to students were given during the ceremony. This is the 31st year Nebraska faculty and staff have received the awards from the Parents Association.


McGuire earns Luminary Award
Brittni McGuire, junior fisheries and wildlife major, has earned a 2020 Student Luminary Award, an honor given to 10 University of Nebraska-Lincoln students for their exceptional leadership, service and commitment to ensuring every Husker feels like a valuable member of the university community.

McGuire will receive the award during a ceremony at 5:30 p.m. March 13 in Hawks Hall, College of Business. Each recipient is awarded $1,000 and a commemorative plaque.

For more information, visit the student affairs website.


Patterson named a Chancellor's Scholar
Kristi Patterson, a senior fisheries and wildlife major, has been named a Chancellor's Scholar, along with 45 other University of Nebraska-Lincoln students who will graduate this May.

The students will be recognized during undergraduate commencement ceremonies May 9 at Pinnacle Bank Arena.
Chancellor's Scholars are students who have maintained 4.0 grade-point averages on all collegiate work at Nebraska and elsewhere.


Two from SNR nominated for CASNR Week Outstanding Staff Award
Karen Gilbert, office associate, and Shawna Richter-Ryerson, communications associate, were among those nominated for the CASNR Week Outstanding Staff Award to be presented March 13 at the Steve and Jessie Waller Awards luncheon at the International Quilt Museum.

The luncheon is part of the 19th annual CASNR Week celebration. The award recognizes a staff member who goes above and beyond to complete necessary responsibilities in-service to the CASNR community.


SNR alumni publishes textbook on statistical modeling textbook
Trevor Hefley, a 2010 graduate of SNR, recently co-authored a textbook, "Bringing Bayesian Models to Life," with Mevin Hooten. Both are professors of statistics, Hefley at Kansas State University, and Hooten at Colorado State University.

The text offers a comprehensive review of statistical models used in ecological and environmental science; an overview of Bayesian computational methods; R code implementing algorithms that fit Bayesian models; and derivations of the needed components to construct statistical algorithms from scratch, according to the publisher CRC Press.

"We provide detailed and annotated R code in each chapter and apply it to fit each model we present to either real or simulated data for instructional purposes," the authors wrote in the book description. "Our code shows how to create every result and figure in the book so that readers can use and modify it for their own analyses. We provide all code and data in an organized set of directories available at the authors' websites."

Hefley earned both his bachelor's and doctorate degrees at the University of Nebraska-Lincoln and was first inspired to learn more about the mathematical tools used in ecology for decision-making on a study abroad trip to Puerto Rico with Larkin Powell.