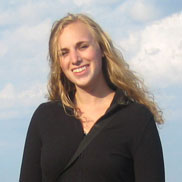 Congratulations to Jocelyn Olney, a triple major in environmental studies, biology and anthropology, who just learned that she'll be continuing her studies this fall at UNL's School of Natural Resources with support from a three-year National Science Foundation Graduate Research Program fellowship.

Jocelyn, from Omaha, got interested in tropical ecology when she took a trip to Costa Rica with people from the Omaha Zoo, where she studied science as a high school senior. Observing the emphasis on conservation in Costa Rica "opened my eyes to a totally different world," Jocelyn said.

She started at UNL in animal science, because, as she said. "I had been planning on becoming a vet since I was a little girl. I went ahead with animal science because that had been my life plan. But within the first week I knew that was not the place for me. I switched to environmental studies right away."

Jocelyn ended up working closely with Sabrina Russo in the School of Biological Sciences, who guided her through a UCARE and thesis project on whether different species of trees in Malaysia prefer different forms of nitrogen. Jocelyn traveled to Malaysia in summer 2010 to collect data, with support from several sources, including NSF Research Experiences for Undergraduates (REU), Sigma Xi Grants-in-Aid of Research, and UNL's School of Biological Sciences.

She also participated in a program funded through the NSF Mathematical Biology Program called Research for Undergraduates in Theoretical Ecology (RUTE). Jocelyn and other student and faculty researchers worked from the Cedar Point Biological Station to observe bees' flight patterns, data they used to model pollinator behavior.

Jocelyn plans to work for Amy Burgin this summer on an alum addition project in the Fremont Lake area, and to prepare papers on her projects to submit for publication.

Until she got the news earlier this month that she had received the fellowship, Jocelyn had planned to take a year off from school to gain experience working as a technician on research projects. Although the fellowship could open more doors, she opted to stay at UNL and enroll in the School of Natural Resources.

People ask whether the anthropology major means she'll be in human dimensions, but Jocelyn says no. "Understanding the human-environmental relationship is really important for all conservation," she said. "It tied in really well."

At SNR, she'll be focusing on wildlife ecology and plans to complete a master's degree. More than that, she can't yet say.