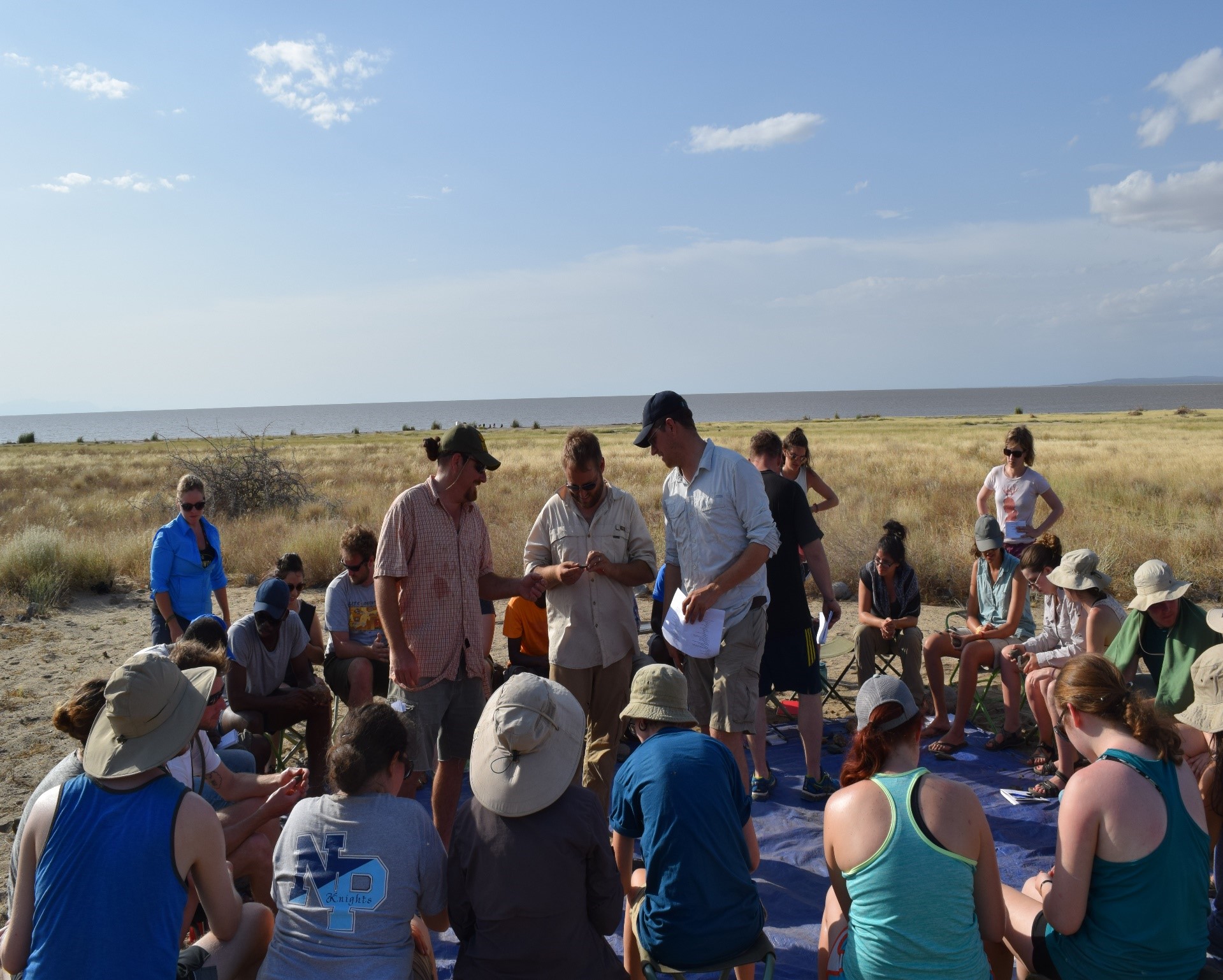 Matthew Douglass, an archaeologist in the UNL Department of Anthropology and lecturer with the School of Natural Resources, is currently in Kenya where he is working as a team member in the Koobi Fora Paleoanthropological Field School.

The field school, directed by The George Washington University, provides students with an intensive six week research experience in Sibiloi National Park (on the east side of Lake Turkana) and the Mpala Research Center (in the Laikipia Plateau). Students from United States and African institutions are paired with archaeologists, geologists, physical anthropologists and paleoecologists working in East Africa.

The first two weeks of the field school have consisted of lectures, lab training exercises and field exercises where students are trained in hominid fossil identification, paleoecology and stone artifact analysis. Students also participate in game drives to monitor species diversity at Mpala and learn about conservation efforts at Sibiloi.
Sibiloi is a UNESCO World Heritage site and hosts fossil deposits dating over the past four million years of human evolution as well as a diversity of wildlife. The effects of drought and conflict over grazing lands have resulted in encroachment of livestock from neighboring pastoral lands, which threatens heritage sites and has caused a loss of wildlife habitat.

"In the past, the park had abundant game including rhino, giraffe, zebra, lions and a host of other species," Douglass said, "but these have now been largely supplanted as pastoralists have taken up residence in the park. Overgrazing has also accelerated erosion to fossil deposits and trampling has damaged fossil specimens and artifacts."

The park is now addressing these issues through the dual approach of educating pastoralists about the benefits conservation and tourism dollars would offer and increased enforcement of park regulations to clear the park of livestock and prosecute poaching. To this end, students learn about the work of the Kenya Wildlife Service to address this issue and participate in field interviews with pastoralists currently residing in the park.

During the next four weeks, students will be immersed in staff research projects in Sibiloi.

Douglass, with David Braun and Jonathan Reeves (both at George Washington), will incorporate five students into an archaeological survey seeking to address changing patterns of hominid land use in the period between 1.6 and 1.4 million years ago. Using geomorphological sampling techniques, UAV drone landscape modelling, and stone artifact analysis, the project correlates archaeological artifact distributions and variation in paleogeography associated with prehistoric river and lake margin environments. Using these data sources, project members are seeking to understand changes in habitat use during a pivotal time in human evolution marked by changes in stone tool technology (the introduction of the Acheulean handaxe) and the spread of hominids (Homo erectus) outside of Africa.

"This is a great opportunity for students to be directly involved in scientific research," Douglass said. "Students will work within the confines of our project, but will also be responsible for developing their own independent projects, which they will then present at the end of the field school. Over the next year, these students also will present their contribution to our work at a work shop at George Washington and will be involved in conference presentations and publications that follow."

The field school originated in the 1970's and is ongoing. Interested students are eligible for fellowships, and applications for the 2017 field school will be available on the project website early next year.
More details at: https://cashp.columbian.gwu.edu/koobi-fora-field-school