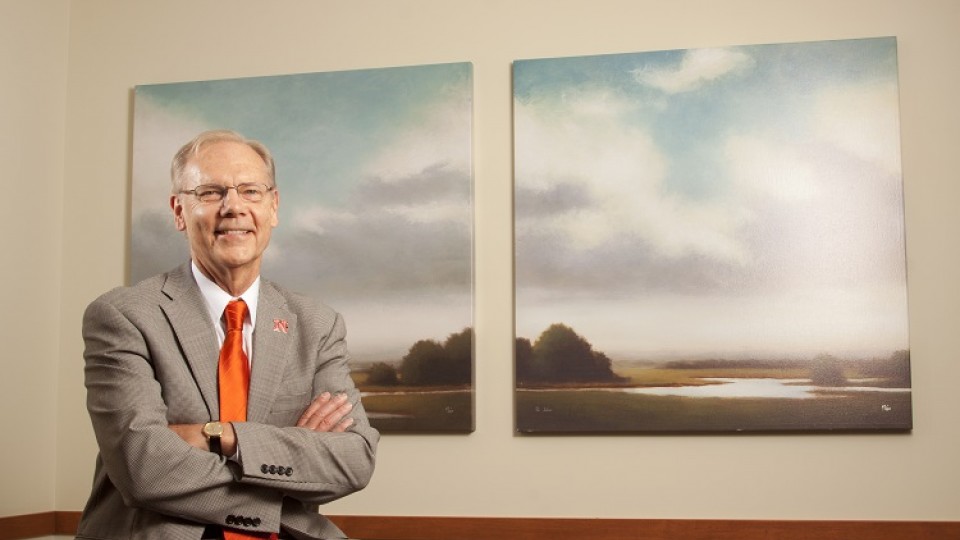 After nearly 40 years with the University of Nebraska-Lincoln, Don Wilhite, founding director of the National Drought Mitigation Center, former School of Natural Resources director and dedicated applied climate professor, retired and shifted to emeritus status.

June 30 was his last day.

"It's been a great honor to work with the university since I joined the faculty in 1977," Wilhite said. "On both the domestic and international side, it has been very rewarding to see my emphasis on drought preparedness and drought policy as well as my emphasis on the development of drought early warning systems and vulnerability assessments being adopted as part of NOAA's National Integrated Drought Information System and by agencies of the United Nations such as the World Meteorological Organization, the UN's Convention to Combat Desertification and the U.N.'s Food and Agriculture Organization.

"I have really enjoyed working with all of the faculty and staff in SNR over the years and wish the unit nothing but success in the years ahead."

Wilhite was the founding director of the International Drought Information Center in 1989, which focused at an international level on reducing vulnerability to drought through projects directed at planning, early warning and mitigation. The center created a guidebook on drought preparedness for developing countries, organized training seminars and conferences related to drought and water resource management, and helped shape drought policy.

This work took him to Africa, Brazil, Thailand, China, Switzerland and Uruguay, among dozens of others countries that were seeking advice for drought planning. The IDIC was active until 2002.

In 1995, Wilhite founded the National Drought Mitigation Center, whose focus has been on reducing societal vulnerability to drought, nationally and internationally, through the development of preparedness plans that emphasize proactive mitigation measures and the adoption of national drought policies that are focused on risk reduction. When Wilhite began working with U.S. states, only three had drought plans. Today, 47 do. The NDMC may best be known for its work on the U.S. Drought Monitor, a weekly map of drought conditions, of which Wilhite and the NDMC were instrumental in getting created. Countries around the world have sought to emulate the map for their own drought response.

Wilhite served as the director of the NDMC until 2007, when he was appointed director of the School of Natural Resources. He stepped down from that post in 2012 to rejoin the Applied Climate Science faculty. His focus since has been on fostering drought management policy internationally and on climate change and its impacts on the state, and in September 2014, he was one of four authors that published "Understanding and Assessing Climate Change: Implications for Nebraska."

"This report has attracted a great deal of attention across the state and has resulted in numerous initiatives on- and off-campus to identify adaptation and mitigation actions for specific sectors," he wrote in his faculty profile. Sector-based roundtable discussions that followed resulted in a summary report, released in early 2016, which Wilhite hopes will lead to additional action on climate change adaptation and mitigation for Nebraska.

Results of that already are in progress. In April, the Nebraska Legislature passed a resolution establishing a committee composed of state senators to examine the impacts of climate change on the state and to determine appropriate and necessary actions. On June 1, Wilhite, along with Sen. Ken Haar's office, organized a one-day seminar to familiarize senators on the science and implications of climate change. (Watch the presentations here: http://go.unl.edu/climateimpactsseminar)

Some of his other posts over the years have included:
• Co-organizer of a November 2015 workshop on the Implications of a Changing Arctic on the Water Resources and Agriculture of the Central United States. This workshop was sponsored by NOAA, USDA and the University of Nebraska and is associated with the U.S. chairmanship of the Arctic Council, which began in April 2015.
• Co-chair of the organizing committee for the 2014 annual symposium of the Center for Great Plains Studies, Drought in the Life, Cultures, and Landscapes of the Great Plains.
• Fellow at the Daugherty Water for Food Institute at the University of Nebraska, 2013 to present.
• Chairman of the Management and Advisory Committees of the newly formed Integrated Drought Management Program launched by the World Meteorological Organization and the Global Water Partnership in 2013.
• Chairman of the International Organizing Committee for a High-Level Meeting on National Drought Policy sponsored by the World Meteorological Organization, the Food and Agriculture Organization and the United Nations Convention to Combat Desertification, July 2011 to March 2013.
• Co-chair of the executive council for the National Integrated Drought Information System, NOAA, 2007 to present.

"Don has made tremendous contributions throughout his career here at UNL," said Michael Hayes, current director of the NDMC. "He has been a vital member of the climate group first within the Department of Agricultural Meteorology and then the School of Natural Resources. However, one achievement forever credited to Don will be his vision for proactive drought risk management. Don's vision has spread around the entire world, leaving behind both national and international legacies, as well as leading to the creation of the National Drought Mitigation Center with its mission to support drought risk management."

Since Wilhite began his work at UNL in 1977, he has brought in more than $20 million in grants and published more than 130 journal articles, technical reports, book chapters and books. For a complete listing, see his curriculum vitae: http://snr.unl.edu/vitae/faculty/2016/Wilhite-Don-CV-012016.pdf

For the next year, Wilhite will utilize an emeritus office while he completes several projects.

-- Shawna Richter-Ryerson, Natural Resources
Kelly Smith and the National Drought Mitigation Center contributed to this report.

More details at: http://go.unl.edu/oint