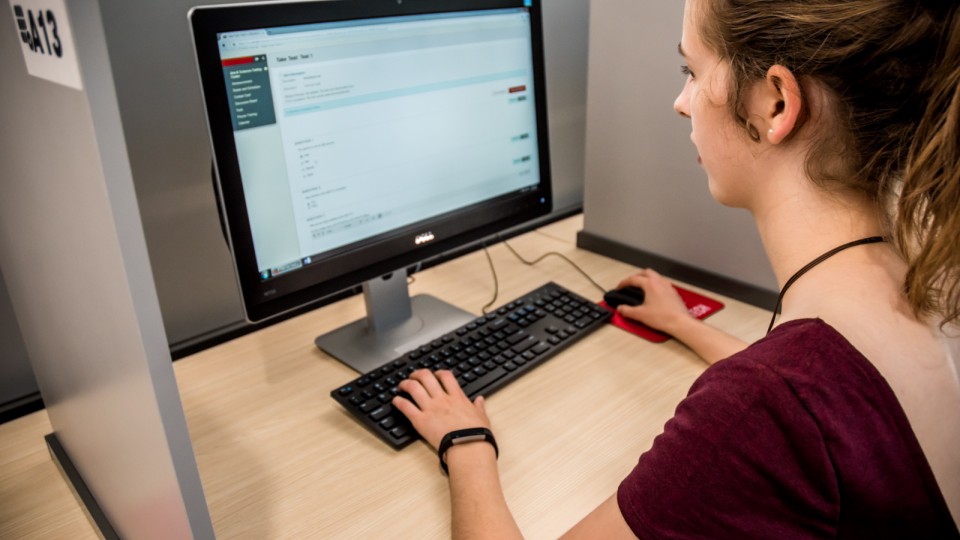 The University of Nebraska-Lincoln opened its Digital Learning Center. Located on the first floor of Love Library North, the center will be a one-stop shop for web-based assessment and Scantron Services.

The Exam Commons, which houses an all-new online examination service, features seating for up to 174 students while providing a low-distraction environment. An open layout and an abundance of natural light add to the comfort and relaxed feel of the new facility.

Accommodating testing units include height adjustable tables, screen reader programs, speech to text programs, private room, low-distraction stations, noise canceling headphones and service dog accessibility.

Some of the more advanced features that won't get the recognition they deserve, according to Amy Zachek, manager of the exam commons, are the center's seating algorithm, student pre-scheduling and testing versatility.

"We are hoping that this will prevent the long and sometimes frustrating lines that other campus testing centers have witnessed in the past," Zachek said of the prescheduling feature for students. "Faculty will also reap the benefits of the Exam Commons by being offered more flexibility by way of testing platform, as our service can facilitate testing in Blackboard, Canvas or MapleTA."

Both the Exam Commons and Scanning Services, previously named Exam Services, will be open to instructors across the UNL system. With a vast number of students taking online tests or using Scantron bubble sheets in class every semester, the Digital Learning Center is expected to have a direct impact on campus learning.

The Exam Commons is currently in its pilot period, with the hours of operation from 9 a.m. to 3 p.m. weekdays, and noon to 3 p.m. on Sundays. Zachek said the Commons is ready to open full-scale operations in the fall, beginning Monday August 22, with increased hours for optimal student flexibility.

Hours of research and insights from other Universities' testing sites, such as Penn State's Pollock Testing, went into the planning and design of the DLC and the Exam Commons. The web development team teased through multiple theses on the subject of testing, as well as scores of documentation detailing the best way to create an optimal seating algorithm.

"Examinations are a big part of higher education, and we were hoping to provide UNL with a state of the art space for this need in aesthetic alignment with the recently renovated Learning Commons," Zachek said. "The DLC Exam Commons provides an environment that's flexible, modern and low-distract for all students to make the exam process more stream-lined and enjoyable."

Fall semester hours are currently scheduled to be:

Monday to Thursday: 9 a.m. to 10 p.m.
Friday: 9 a.m. to 5 p.m.
Saturday: 1 to 5 p.m.
Sunday: 1 to 10 p.m.

For more information on the Digital Learning Center, http://its.unl.edu/dlc.
More details at: http://go.unl.edu/nkfa