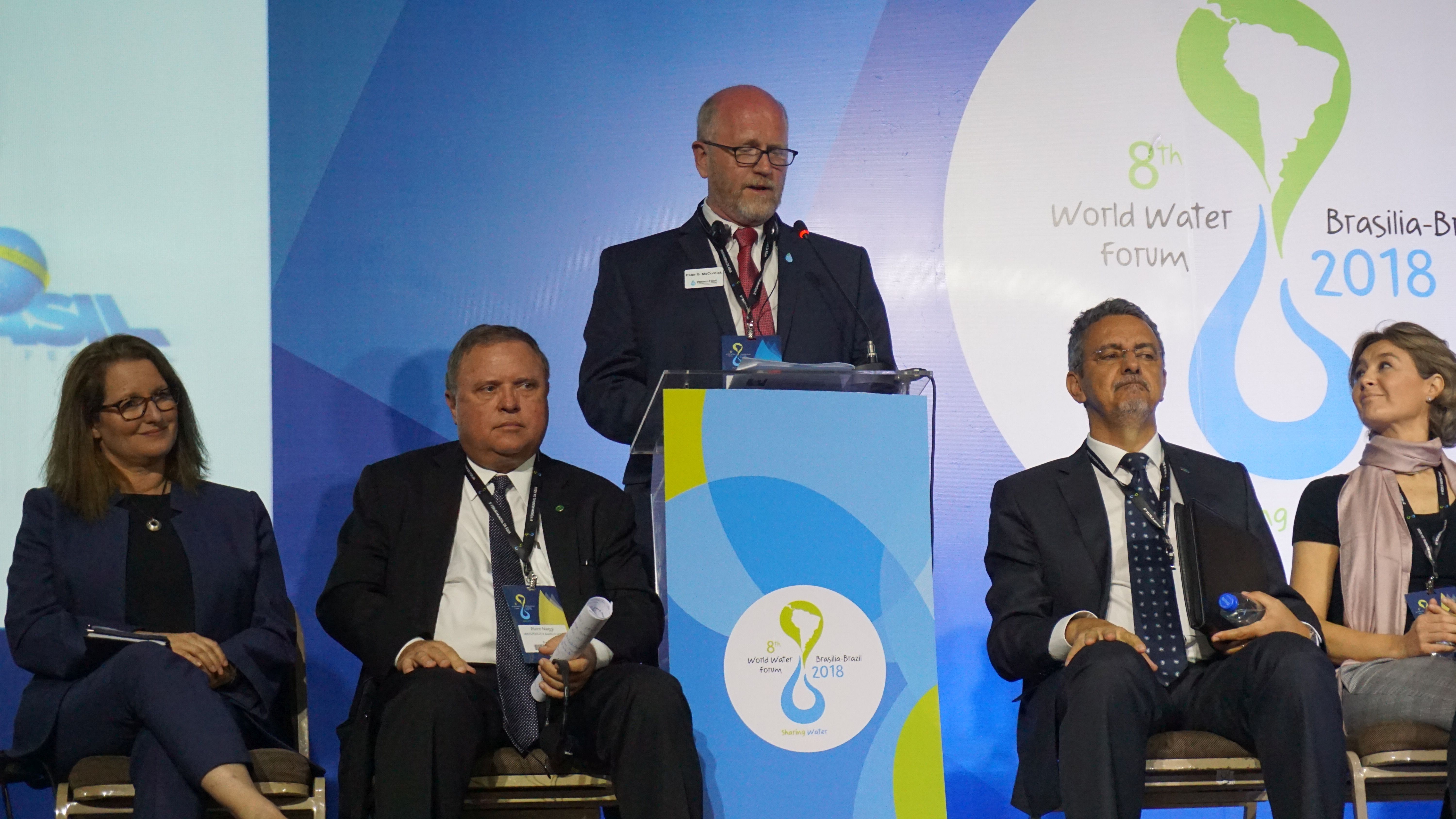 At an event that drew more than 20,000 participants from 170 countries around the world, a small team of experts from Nebraska led the way in sessions related to water use in food production or processing. The eighth World Water Forum, March 18 to 23 in Brasilia, Brazil, focused on the challenges and solutions to ensuring water security around the world.

The event, organized by the World Water Council, is held every three years to build awareness and promote action on global water issues, along with planning and managing environmentally sustainable use of limited water resources.

The Robert B. Daugherty Water for Food Global Institute at the University of Nebraska coordinated the Water for Food track of sessions with the Food and Agriculture Organization of the United Nations. Three sessions were organized:

Soil and Water Conservation Practices;
Water for Food Processing, Waste Reduction, Optimization and Reuse;
Floods, Droughts, Wind, Fire: Building Resilient Agricultural Systems.

The University of Nebraska was the only U.S. university to co-lead a thematic track of the World Water Forum.

The institute organized a High Level Panel on Water for Food, moderated by DWFI executive director Peter G. McCornick, featuring five international leaders:

Blairo Maggi, Minister of Agriculture, Livestock, and Supply of Brazil

Claudia Sadoff, director general, International Water Management Institute

Celestino Zanella, president, Association of Farmers and Irrigators of Bahia, Brazil (AIBA)

Isabel García Tejerina, Minister of Agriculture Fisheries, Food and Environment of Spain

Mauricio Antonio Lopes, president, EMBRAPA, The Federal Agricultural Research Agency of Brazil

The panelists shared their views and experiences on ways organizations and nations can work together to improve food security and successful farming production, conserve natural resources and mitigate the effects of climate variability.

"Where we have irrigated farming, we have younger, more productive rural areas. Irrigation is synonymous with prosperity and vitality," said Isabel Garcia Tejerina, Minister of Agriculture, Fisheries, Food and Environment of Spain.

Claudia Sadoff, director general of the International Water Management Institute, suggested that large irrigation schemes are just part of the solution, and not suitable for all types of farming. "There are general challenges in water scarcity, access, quality, availability and predictability. But solutions are more context specific. For example, there are areas of Asia with too much water in one season and not enough other times of the year. We need solutions for monsoonal regions that capture and store the excess water so it can be used during the dry seasons."

Producer Celestino Zanella said that farmers often get blamed for "hurting the environment," but that farmers are the ones actually working to preserve and improve the environment. "We have mitigated forest fires and insect damage. We share knowledge with smallholders about effective farming practices and good water management," he stated.

From discussing techniques to maximize water use in food processing, to tools to monitor and mitigate drought, to sustainable groundwater management techniques used in Nebraska and other states, DWFI delegates shared their expertise and perspectives on a range of topics related to its mission to ensure water and food security throughout the world.

"Water reconditioning and reuse in the food industry is a helpful solution to the challenge of water scarcity. Technologies available today enable us to obtain specific water quality for reuse that does not compromise food safety," said Yulie Meneses, DWFI water for food processing specialist.

A session featuring representatives from the North Platte Natural Resources District and the Upper Big Blue Natural Resources District gained a lot of interest and questions from the crowded room. Many countries are looking at Nebraska's model of water governance to see how they may implement similar groundwater management systems.

"This is just amazing – that we are here sharing the things that work for us in the middle of Nebraska with people from Nigeria, India, Australia and China," said John Berge, general manager of the North Platte Natural Resources District.

"No matter who you are or where you're from, it all comes down to building trust," added Scott Snell, public relations manager of the Upper Big Blue Natural Resources District. "Our farmers want clean water, too. We work on solutions together so there is transparency in the process."

DWFI also held a side event to discuss ways in which organizations can support farmer-led agricultural production, including access to irrigation for small-scale farms. Participants recommended looking at a variety of projects in this focus area, building on successful programs that have the potential to be scaled-up.

"We are building awareness of the urgent importance of looking at water issues differently, especially when it comes to agriculture," said McCornick. "If we're not including agriculture in the water security challenge, we're ignoring 70 percent of the equation [the estimated amount of fresh water used in agriculture], and missing the opportunity to increase resilience in our food systems. Nebraska has a lot of expertise to share, as well as a lot to gain through our involvement with the many partners participating in the World Water Forum – developing potential projects that will further our goal of ensuring water and food security."

More information about DWFI's sessions at the eighth World Water Forum is
available on the institute's website.

View more than 160 photos on Flickr.

###

The Robert B. Daugherty Water for Food Global Institute (waterforfood.nebraska.edu) at the University of Nebraska was founded in 2010 to address the global challenge of achieving food security with less stress on water resources through improved water management in agricultural and food systems. We are committed to ensuring a water and food secure world while maintaining the use of water for other human and environmental needs. Connect with us on Twitter, Facebook, YouTube and the Water for Food Blog.

DWFI is one of four interdisciplinary, university-wide institutes that leverage talent and research-based expertise from across the University of Nebraska system to focus on complex state, national and global challenges.

More details at: https://go.unl.edu/sks5