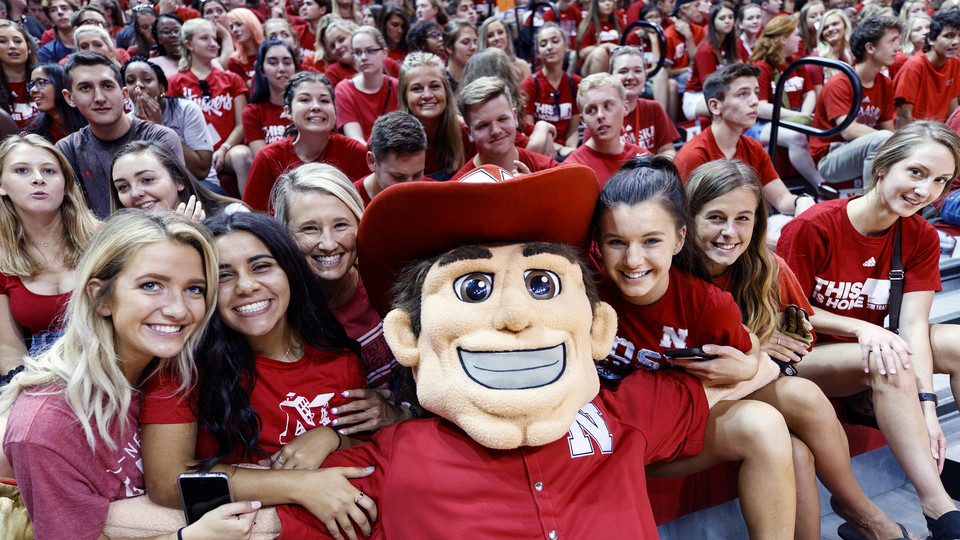 The University of Nebraska–Lincoln is rolling out a new and improved Big Red Welcome designed to better support student transitions to college life.

Kicking off Aug. 21 as Huskers move into campus residence halls, the six-week program will feature a diverse range of programs and activities — from rubbing elbows with Chancellor Ronnie Green at a picnic to learning how to navigate campus.

"The transition to college from high school may be challenging for many students—after all, it's a brand new life experience," said Amber Williams, assistant vice chancellor of academic services and enrollment management. "To make the transition as smooth as possible, we've created a more robust welcome week to engage, support, and energize our new students. We've carefully selected programs to ensure that every interaction, each student matters."

In collaboration with the Offices of Student and Academic Affairs, New Student Enrollment revamped Big Red Welcome after meeting with more than 100 first-year students last fall to learn about the transition to college life.

Students shared that their first-year student experience would have benefited from a more diverse range of welcome activities and programs that would introduce them to other like-minded students, help them to better physically navigate campus and the greater Lincoln area, and develop skills for success (such as time and money management, goal setting, etc.).

The first-year students also expressed the need for more consistent connections during welcome week through small-group or mentorship-style programs and activities. Some felt that the bigger events were intimidating when they were not part of an established "friend group."

New Student Enrollment, Student Affairs, Academic Affairs and academic colleges used students' feedback to modify this year's Big Red welcome programs and activities to include more small-group opportunities through structured interactions and activities, making it more comprehensive from previous years. New programs and activities have been added to help students build relationships, develop a sense of institutional belonging and acquire point in time strategies and content knowledge during their first few weeks on campus.

"This year, Big Red Welcome will offer students more free activities and events to meet other students and become fully acquainted with the resources and activities Lincoln and the campus has to offer," said Jenni Brost, director of New Student Enrollment.

Events open the evening of Aug. 21 with Student Involvement's "PLAYFAIR: The Ultimate Icebreaker," an interactive, retention-building experience. The program uses fun games and activities to celebrate the diversity of each person in an atmosphere of non-competitive play allowing new students to socialize.

The welcome events are also integrating Husker POWER themes. The themes — Purpose, Ownership, Wellbeing, Engagement and Relationships — were introduced as part of new student enrollment sessions this summer.

"The Big Red Welcome planning team has identified signature events, general interest sessions and find your 'crew' sessions that support the Husker POWER framework," Brost said. "We've added so many new activities — there's something for everyone."

New events for the 2019 Big Red Welcome include:


Aug. 21-25: Interest Group Lunches— During lunch, students can dine at tables designated with special hobby and/or interest topics and meet others who share their interests


Aug. 22-23: Community Building and Info Sessions — Students can engage with a variety of campus resources like religious organizations, LGBTQA+ Resource Center, Women's Center, Military and Veteran Success Center, Services for Students with Disabilities and the Office of Academic Success and Intercultural Services to find a supportive community.


Aug. 22: Hypnotist Performances — Students can attend one or both of Dr. Larry Volz's hypnotism shows. Volz is an award-winning magician who has amazed and amused more than a million people worldwide through performances, cruise ship shows, and television.


Aug. 23: BBQ with the Chancellor — Students can join Chancellor Ronnie Green for a barbecue picnic following New Student Convocation. Deans and senior administrators will be on hand to welcome the class of 2023. Vegan and allergen-friendly options will be available.


Aug. 24: Husker Civic Challenge — First-year students can register to participate in an afternoon of hands-on service projects throughout the Lincoln community, which include outdoor community beautification, working with after-school Community Learning Centers, and serving the needs of various local nonprofits.


Other Big Red Welcome events include "Big Red Bike Ride" on Aug. 22; bowling at the Nebraska East Union on Aug. 22; Yoga on the Green on Aug. 25; Husker Dialogues on Sept. 5; and Fiesta on the Green on Sept. 12. Students also will be able to attend various workshops ranging from discovering your best self with Clifton Strengths Institute on Aug. 22 to positive mental health and well-being strategies on Aug. 23, navigating college life with a disability on Aug. 23, and Backpacks to Briefcases on Sept. 18.

Highlights of the festivities include the Tunnel Walk into Memorial Stadium and HuskerMania Foam Party Aug. 24 and the Big Red Welcome Street Festival Aug. 25 in the parking lot east of Memorial Stadium at 14th and Vine streets. More than 6,000 students are expected to attend the street festival, enjoying free food and opportunities to win prizes.

Businesses, departments and organizations can still register to host a booth at the Big Red Welcome Street festival. Additional details and registration information are available online.

Students are encouraged to download the Big Red Welcome guidebook app to view and register for welcome events. The complete six-week schedule is available online.

Nebraska Today