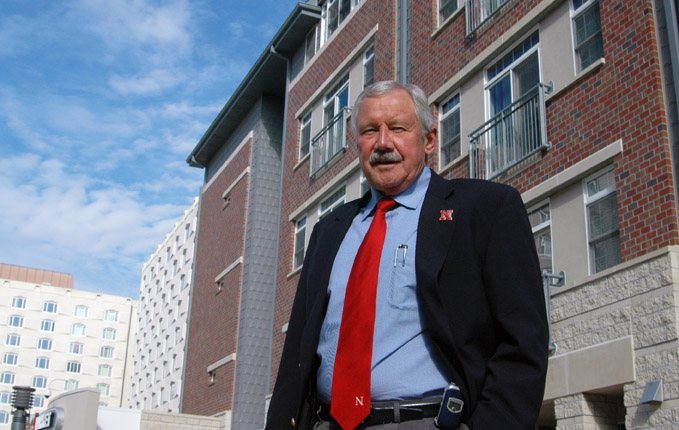 Retirement is going to be anything but slow for Doug Zatechka.

After a 45-year career in university housing - first at Michigan State, the last 34 years as director of housing services at UNL - Dr. Z. officially retires in February. While he is unable to pinpoint any particular reason for the move (other than "it's time"), Zatechka is ready to dive into other opportunities, nearly all of which involve continuing service to others.

"I'm told I should get emeriti status and really would like to work on behalf of UNL's emeriti association," Zatechka said. "I'd also like to work on the OLLI program; there's real merit in that."

He has plans to volunteer at a local hospital - for no other reason than he believes it would be fun.

And volunteer with the American Association of Retired Persons to work on issues related to senior citizens. He also plans to work on projects in his wood shop, travel, visit his seven grandchildren, be involved more in his church, visit UNL, help with New Student Enrollment "once in a while," and work on his golf game.

There's also word of submitting an application for other employment.

"I'm going to apply to be a conductor on the train at the Lincoln Children's Zoo," Zatechka said. "That's something I've wanted to do for 20 some years. I'm told there will be some interviews and training sessions, so we'll have to wait and see about that one."

A retirement celebration is 2 to 4 p.m., today in the Great Hall of the Kauffman Residential Center. The event is free and open to faculty, staff and students.

During his time with UNL Housing, the student population staying in residence halls has grown from around 4,800 students to 6,200 - a credit to Admissions, said Zatechka. And, UNL has added four new residence halls, Village, Courtyard, the Kauffman Center and Knoll Hall.

Zatechka is the first non-UNL faculty member to earn the George Howard-Louise Pound Award for exemplary service to the university, awarded during the All-University Convocation on April 18. He also earned the Crystal Apple, a Michigan State award for career achievement in education.

As for what he's going to miss about UNL? Well, that's an easy one.

"Leaving the people here is going to hurt," said Zatechka. "I'm extremely proud of what we have accomplished. I'd take all 300 of the people here in Housing - cooks, finance officials, accountants, counselors, janitors, custodians - and put them up against any place else. We would run circles around them.

"We accomplish things because of these people, not because of some director or associate director. They work very hard to make UNL Housing an outstanding experience."

Read more about Zatechka's career in the Nov. 18 edition of the Scarlet.