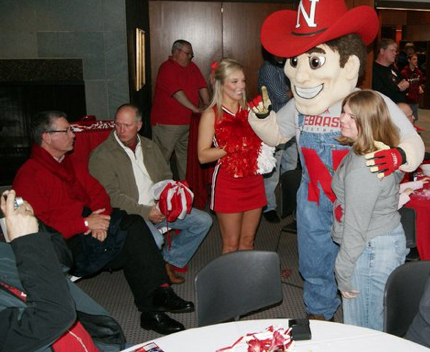 The Nebraska Alumni Association is offering Big Red Weekend, UNL's annual spring homecoming, April 13-14. A variety of events, including lectures, performances, the Red-White spring football game at 1 p.m. April 14, and other athletic contests are planned across campus for the celebration.

In addition, four groups are planning reunions and special alumni events, including the Alumni of Color, University Libraries former student employees, Love Memorial Hall alumnae, and Mechanical and Materials Engineering.

The Sheldon Museum of Art will also host a jazz performance and family art day. Jazz musicians Jackie Allen and Hans Strum will perform "Partners and Adversaries: Love Lost and Found" at 7 p.m., April 13 at the museum. And, family art activities will be offered 10 a.m. to 3 p.m., April 14 in the west green space of the Sheldon Sculpture Garden. Both events are free and open to the public.

Other home Husker athletic events include: Women's tennis with Michigan, 3 p.m., April 13 at the NU Varsity Courts; and volleyball with Wichita State, 5 p.m., April 14 at the NU Coliseum.

For more information on Husker athletic events, including how to purchase tickets, go to http://huskers.com.

For more information on campus events offered during Big Red Weekend go to http://www.huskeralum.org or http://events.unl.edu.