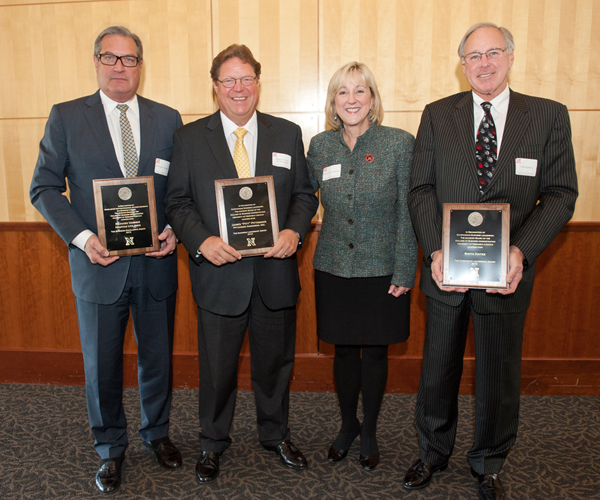 The College of Business Administration held its Advisory Board Annual Awards Luncheon April 13. The awards recognize the outstanding accomplishments of business leaders and corporations in the state of Nebraska and the world.

Kirk Kellner, President of the College of Business Administration Advisory Board and Regional President of Wells Fargo Bank, was the emcee for the event. Donde Plowman, James Jr. and Susan Stuart Endowed Dean of the College of Business Administration, presented the awards to the recipients. Kellner pointed out the significance of the award winners by connecting them with those from the past.

"Those honored here today join an impressive and long list of past recipients, including Cliff Hillegas, Howard Hawks and Warren Buffet to name a few," Kellner said.

The 2012 honorees include Richard Varner of Los Angeles, James "Pitt" Pittenger of Lincoln, Smith Hayes Companies of Lincoln and Carl Mammel of Omaha. Mammel was not able to attend the ceremony and will receive his award at a formal recognition later this fall.

Richard Varner, CEO, Navitas Utilities – Business Excellence Award

Richard Varner led the domestic crude oil division at Coastal Corporation, and served as president and CEO of Coastal's West Coast Refining and Marketing Group. When the China National Chemical Import Export Corporation (Sinochem) purchased half interest in the division, Varner chaired the organization. He later formed his own company, Newport Petroleum Inc., which was engaged in the marine transportation and terminalling of petroleum products along the west coast of the U.S., Canada, Mexico and Hawaii. His company grew to include nine ocean-tug and barge units. After selling Newport Petroleum in 2003, Varner has been involved in the acquisitions of LDC and pipeline assets in the natural gas industry through Navitas Utilities, LLC and Warrior Petroleum LLC.

Varner is a 1976 graduate of the UNL College of Business Administration and received his MBA from the University of Kansas in 1978.

Jim "Pitt" Pittenger, President, Pittenger & Anderson Inc. - Business Leadership Award

Jim Pittenger started his financial career at First National Bank of Lincoln in the investment division. He opened the Dean Witter office in Lincoln and later served as branch manager. Pittenger has served as president of the Nebraska Securities Industry Association and is currently a financial industry regulatory authority arbitrator. He serves on a number of local philanthropies.

Pittenger graduated from UNL in 1970 and later attended the Dean Witter/Wharton Graduate School at the University of Pennsylvania.

Smith Hayes Companies – Corporate Leadership Award

Established in 1985 by Thomas C. Smith and Thomas D. Hayes, Smith Hayes Companies started with three employees and has grown exponentially through the years. Smith Hayes Financial Services Corp, a securities broker dealer, opened as a subsidiary to Smith Hayes Companies. Licensed in all 50 states, there are affiliated registered representatives throughout the Midwest. Smith Hayes Companies also formed Smith Hayes Advisers Inc., a registered investment adviser and Smith Hayes Management Company. Found on five core principles – partnership, communications, education, solutions and trust – over the years, company objectives have been modified but the core principles remained unchanged.

Carl Mammel, Silverstone – Lifetime Achievement Award

Carl Mammel founded Mammel, Schropp, Swartzbaugh, Engler and Jones Inc., a consulting firm providing services in executive benefits, employee benefits planning and wealth transfer planning. The firm merged with the Redland Group in 1991 and is now SilverStone Group. He still sits on the board at SilverStone and remains very active in the community. Mammel is also a member of the Salvation Army Advisory Board, Children's Hospital Advisory Board and member of the board for the Omaha Performing Arts Society and the University of Nebraska Foundation. He is a retired member of M Financial Holdings.

Mammel graduated from the University of Nebraska College of Business Administration in 1955, and was affiliated with Beta Theta Pi.