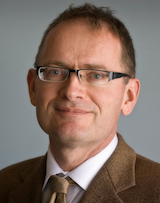 Janos Zempleni, professor nutrition and health sciences and director of the Nebraska Gateway for Nutrigenomics, received the 2012 Outstanding Investigator Award from the American Society of Nutrition.

Zempleni was recognized for his contributions to nutrition research and the mission of the ASN's Nutrient-Gene Interactions Research Interest Section. The ASN is the nation's premier professional organization for investigators conducting clinical and basic nutrition research and has about 3,000 members.

Zempleni has been a member of the ASN since 1995 and has held many elected offices in both NGIRIS and ASN. He joined the UNL Department of Nutrition and Health Sciences in 2001. He received his undergraduate and graduate training at the University of Giessen in Germany. Zempleni's postdoctoral training was at the University of Innsbruck in Austria, Emory University and the Arkansas Children's Hospital Research Institute. He joined the Arkansas Children's Hospital Research Institute in 1998 as an instructor and then was a member of the faculty from 1999 until 2001.

Zempleni is an internationally recognized leader in holocarboxylase synthetase biology, biotin nutrition, and biotin-dependent regulation of genes. His National Institutes of Health-funded lab has been recognized for discovering a novel modification of histones and for discovering the role of HCS in assembling multiprotein gene repression complexes in human chromatin. Zempleni's research program focuses on the roles of HCS and biotin in gene regulation, chromatin structure, and genome stability. Examples include the repression of transposable elements by biotin and the prevention of birth defects by biotin.