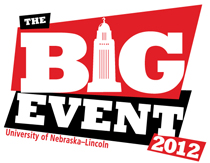 More than 2,500 volunteers will participate in the seventh annual Big Event at UNL April 21. Participants will visit more than 125 community nonprofit organizations and 75 private residences for thousands of hours of community service.

The Big Event's motto, "One Big Day. One Big Thanks," represents students' desire to give back to the community of Lincoln.

The Big Event began at UNL in 2006 and focused solely on Lincoln's nonprofit organizations. As volunteer demand outpaced nonprofit volunteering capacity, the Big Event expanded its mission to include work for private individuals at their residences. The Big Event now helps anyone and everyone who registers. Part of a national organization focusing on one large day of service, the first Big Event was at Texas A&M University in 1982. Organizations are student-run and funded by donations from their communities.

Community support is critical to the Big Event, said Jeff Lopez and Ross Jensen, 2012 Big Event co-chairs.

"Local sponsors have donated food, goods and monetary support," Lopez said. "Through this generosity, the Big Event is able to feed all 2,500 student volunteers breakfast and lunch, while providing them with a commemorative T-shirt."

The Big Event organizers are always looking for means to expand the event's impact. Homeowners and private individuals can can request volunteers regardless of their means. To be contacted as a potential volunteer site in April 2013, email thebigevent@unl.edu. Find out more on the web at http://bigevent.unl.edu.
More details at: http://go.unl.edu/gp6