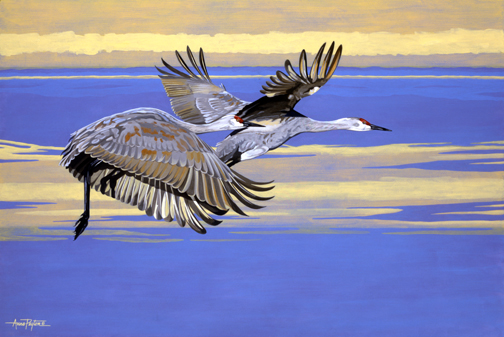 Anne Peyton will be the 2012 Elizabeth Rubendall artist-in-residence at the Great Plains Art Museum from April 24 through May 4. During her residency, she will create two original acrylic paintings that will become part of the museum's permanent collection -- one of a Great Plains raptor, and one of a Great Plains songbird.

Visitors and school groups are invited to view and interact with Peyton as she works. There will be an area to sketch, and outreach animals from Pioneer Park Nature Center will be available for select portions of the residency.

Peyton has brought her graphic talents as one of the most sought-after motorsports artists to her passion for avian conservation. Her reputation as a premier wildlife artist has rapidly grown since 2000.

"Painting birds and racing cars may seem to be on the opposite end of the spectrum, but in truth there is a lot of similarity," she said. "Both can be brilliantly colored or purposefully drab. Both are technically difficult. The artist must be able to capture and represent the proper attitude of a car at speed or a bird in its natural setting. If you're not correct, there is always someone -- a racer or another birder -- who will correct you."

An avid birder, Peyton has spent countless hours viewing birds in the wild and in her volunteer work with Liberty Wildlife, a rehabilitation and education organization that treats injured animals.

"Observing birds and their habits is a way to discover more about their nature -- the motions a sandhill crane makes during preening, the way a golden eagle walks along the ground instead of hopping or taking a short flight, or the frantic scolding of a house wren guarding its nest hole," Peyton said. "Each of these actions means something for the bird and it is these actions and their meanings that I want to convey to the viewer."

Peyton is based in Ahwatukee Foothills, Ariz. She has been a signature member of the Society of Animal Artists since 2000; a member of the National Oil and Acrylic Painters' Society since 2001 and was honored with Signature Artist's Guild status in 2004; a signature member of the Artists for Conservation since 2005; an associate member of the National Society of Painters in Casein and Acrylics since 2005; a member of the American Society of Marine Artists since 2009, a member of The Pen and Brush Inc., since 2009, an associate member of Women Artists of the West since 2009, and an associate member of the American Plains Artists since 2010.

"We are ecstatic that Anne Peyton will be our Artist-in-Residence," said Amber Mohr, curator of the Great Plains Art Museum. "She has a unique graphic style in her line application, and her naturalist's exacting eye will please any avid birder. She has the additional benefit of bringing her conservation outreach experience to the residency, making her art also about animal advocacy and awareness. Engaging people with the process of artwork rather than just the product of a finished painting is so fundamental to understanding and appreciating art, and we're glad the Elizabeth Rubendall Foundation recognizes the importance of this type of educational experience."

This is the sixth year that the Great Plains Art Museum's artist-in-residence program has been supported by the Elizabeth Rubendall Foundation Artist-in-Residence Program Fund.

"This is a terrific program that the Elizabeth Rubendall Foundation has allowed us to present," said Richard Edwards, director of the Center for Great Plains Studies. "It's amazing to see how every visitor, from school groups to ordinary museum goers, to other working artists, learns so much for watching an artist work. It is an exceptional experience for the artist and the audience to share in the art-making process."

The Great Plains Art Museum will have a concurrent solo exhibition of Peyton's artworks on view during her residency and lasting through May 27, titled "Longed for Still: The Avian Art of Anne Peyton," with a First Friday reception from 5 to 7 p.m. on May 4. Many of her completed artworks will be available for sale, and Peyton has generously agreed to donate 25 percent of proceeds from sales to support programs and acquisitions at the Great Plains Art Museum.

The public is welcome to observe and interact with the artist while she works. Peyton will be painting from 10 a.m. to noon and 2 p.m. to 5 p.m. Tuesdays through Saturdays during the residency, and 1:30 to 5 p.m. on Sundays. Groups may arrange tours by contacting Mohr at 402-472-0599.

The Great Plains Art Museum is open to the public 10 a.m. to 5 p.m. Tuesday through Saturday and 1:30 to 5 p.m. Sundays. There is no admission charge.