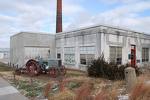 UNL's Lester F. Larsen Tractor Test and Power Museum has been selected as a 2010 Hidden Treasure by Heritage Nebraska. Hidden Treasures are selected for their contribution to the unique tapestry of our built environment, culture and landscapes. They help tell the stories of who we are. They celebrate heritage.

Heritage Nebraska annually releases its list of Hidden Treasures to celebrate Nebraska's unique heritage through its built environment, culture and landscapes. The list showcases the lesser-known treasures of Nebraska. The Larsen Tractor Museum and 12 other Hidden Treasures received a plaque from Heritage Nebraska on May 21.

The museum is located on East Campus near 35th and Fair streets. Hours are Monday through Friday 8:30 a.m. to 4 p.m. and Saturday 10 a.m. to 2 p.m.

For more information, go to http://tractormuseum.unl.edu/.

More details at: http://go.unl.edu/92v