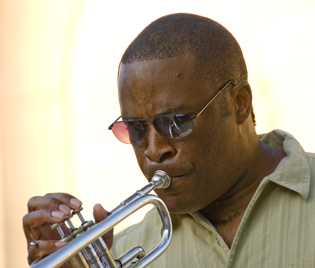 UNL trumpeter Darryl White will kick off Jazz in June when the annual concert series opens June 1.

Now in its 19th season, the Jazz in June series offers five Tuesday evening jazz performances in the great outdoors on the plaza west of the Sheldon Museum of Art. The concerts begin at 7 p.m. and draw thousands to campus.

The Darryl White Group will perform with guest artist Dick Oatts in the June 1 performance. White is an associate professor of trumpet in the School of Music. He has played the trumpet since age 10. Trained as a classical musician, White found his true passion in jazz. He has performed at venues nationwide. His albums include "In the Fullness of Time," "Ancient Memories" and "Resonance."

Other members of the group are Jeff Jenkins on keyboards, Craig Akin on bass and Brandon Draper on drums.

A saxophonist, Oatts has played with a who's who list of jazz musicians throughout the world for the past 30 years. He has released five CDs.

The Darryl White Group last played Jazz in June in 2008.
For more information, go to http://www.darrylwhite.com.

Other performances in the 19th season of Jazz in June are: June 8 - Otro Mundo; June 15 - Angela Hagenbach; June 22 - Jeff Newell's New-Trad Octet; and June 29 - The Jerry Hahn Band.

Concertgoers are encouraged to bring blankets or lawn chairs. Jazz in June performances are free and open to the public, however, concertgoers are asked to make a minimum donation of $10 per family to continue the series.

To ensure the safety of all concerned, pets will no longer be allowed at concerts. Service animals are allowed.

Before each concert visitors are invited to take a tour of the gardens on the UNL campus. The free tours start at 6 p.m. on the east side of Sheldon. The June 1 tour will feature historic and unusual campus trees. Eileen Bergt, director of Landscape Services and campus landscape architect, and Kirby Baird, landscape manager for City Campus, will direct the tour through the original four-block University of Nebraska campus.

The Sheldon will also offer Super Sleuth hunts in and around the museum for kids. And, the Jazz in June Market will return, offering food (including UNL Dairy Store ice cream) and shopping to concertgoers. The market opens at 5 p.m. on 12th and R streets.

For more information, go to http://www.jazzinjune.com.
More details at: www.jazzinjune.com