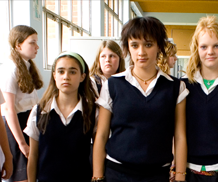 "What's the Matter with Kansas" (May 28 to June 3): The documentary expands on the themes of Thomas Frank's New York Times best-selling book as it takes viewers into the heart of conservative Middle America.

"Hey Hey It's Esther Blueburger" (May 28 to June 3): A coming-of-age story about a 13-year-old girl trying to fit into both a posh private school and an ordinary public school.

For more information, go to http://www.theross.org.
More details at: http://www.theross.org