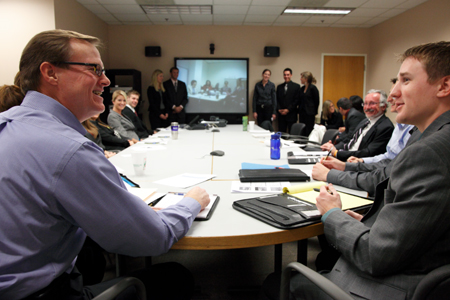 The College of Business Administration hosts its inaugural CBA Employer Partners Day today in CBA 143.

The event is an effort to engage employers in new ways that will help both students and employers make connections in the job market.

Rachel Larson, a career coach at CBA, believes recent initiatives from the dean's office have improved the ability of the college to market new services to employers.

Some of the initiatives include plans for a new facility for the college, a new supply chain management major, a new MBA director and a professional enhancement program that will be gearing up soon.

"We often meet with employers who are asking us what students are looking for in an ideal company and how best they can communicate with students," Larson said. "Here's a chance for the employers to actually ask the students themselves."

The afternoon activities will consist of breakout sessions focusing specifically on the needs of employers. One of the sessions will look at opportunities for businesses and their employees to utilize the UNL MBA program themselves, and another will examine how employers can develop a model internship program. The final session is a recruiting roundtable where employers get to talk with each other.

"We're really excited about the employer roundtable. Employers will be able to share trends that they see in the recruiting field and talk about any ongoing challenges they are experiencing," Larson said.

Faculty, staff and students will all be in attendance to meet with employers.

For more information, contact Career Services' CBA office at 402-472-7272.