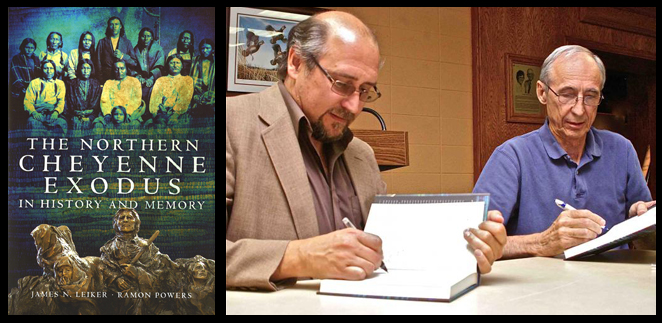 "The Northern Cheyenne Exodus in History and Memory" by James Leiker and Ramon Powers is this year's winner of the Great Plains Distinguished Book Prize from the Center for Great Plains Studies at UNL.

The exodus of the Northern Cheyenne in 1878 and 1879, an attempt to flee from Indian Territory back to their Montana homeland, is an important event in American Indian history. It is equally important in the history of towns like Oberlin, Kan., where Cheyenne warriors killed more than 40 settlers. The Cheyenne, in turn, suffered losses through violent encounters with the U.S. Army. More than a century later, the story remains familiar because it has been told by historians, novelists and filmmakers.

In "The Northern Cheyenne Exodus in History and Memory," Leiker and Powers explore the ways in which that exodus has been remembered, told and retold. The authors examine the recollections of Indians and settlers, and of their descendants, to see how they recount these events, and why.

Leiker and Powers challenge stereotypes, pointing out that history is never so simple. "The Cheyennes' flight," they write, "had left white and Indian bones alike scattered along its route from Oklahoma to Montana. The degree of reverence with which those bones have been treated depends on living people's interpretation as to the story's heroes and victims." In this view, the descendants of the Cheyenne and the settlers they encountered are all westerners who need history as a "way of explaining the bones and arrowheads" that littered the plains.

Leiker is associate professor of history at Johnson County Community College in Overland Park, Kan. He is also the author of "Racial Borders: Black Soldiers along the Rio Grande." Ramon Powers is a former executive director of the Kansas State Historical Society.

Judges for the book prize were UNL faculty members Andrew Jewell, R. Matthew Joeckel and John R. Wunder.

Jewell said, "The winning book is a thoughtful, compelling account of an important event in Great Plains history, but also an interesting analysis on how that event is remembered by different communities. The authors' ability to delve deeply into the varied responses to the Cheyenne Exodus demonstrates an ability to effectively engage with multiple points of view in order to tell a thorough and well-researched story."

A cash prize of $5,000 will be presented to Leiker and Powers. They will also be invited to present a lecture this fall at the center. "The Northern Cheyenne Exodus in History and Memory" was published by the University of Oklahoma Press.

The Great Plains Distinguished Book Prize was created to emphasize the interdisciplinary importance of the Great Plains in today's publishing and educational market. Only first edition, full-length, nonfiction books published in 2011 were evaluated for the award. The other finalists were "Where the West Begins: Debating Texas Identity" by Glen Sample Ely with foreword by Alwyn Barr (Texas Tech University Press); "Principle over Party: The Farmers' Alliance and Populism in South Dakota, 1880-1900" by R. Alton Lee (South Dakota State Historical Society Press); "Sustaining the Cherokee Family: Kinship and the Allotment of an Indigenous Nation" by Rose Stremlau (University of North Carolina Press, Chapel Hill); "The Notorious Dr. Flippin: Abortion and Consequence in the Early Twentieth Century" by Jamie Q. Tallman with foreword by Harriet A. Washington (Texas Tech University Press); and "Will Rogers: A Political Life" by Richard D. White Jr. (Texas Tech University Press).

For more information, go to http://www.unl.edu/plains.