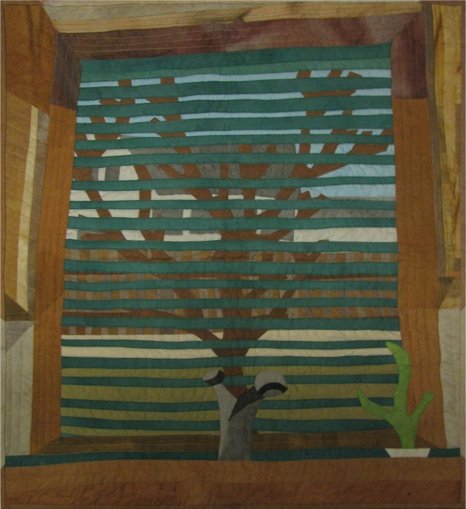 Kate Sydik, a candidate for a master of arts degree in the Department of Textiles, Clothing and Design, will feature her work in a Robert Hillestad Textiles Gallery exhibition June 7-17, "Platzgeist: Revealing the Spirit of the Familiar."

Sydik looked at her surroundings from new perspectives to reveal the "platzgeist," or defining spirit, of these found spaces, often focusing on architectural details such as doorways, walls, and passageways. She hand-dyed the cotton and silk fabrics in the collection through a variety of surface design techniques to have greater control over subtleties in color, value and texture.

Her abstract work became increasingly personal and emotional through the process. Her initial desire was to explore and address familiar spaces removed from their context. However, as she moved through the process of interpreting and portraying these familiar spaces, she concluded that stripping the spaces of all human reference can undermine the true characteristics of the spaces. She found that a purely decontextualized notion of a space is intensely difficult to achieve due to emotional connections between occupants and familiar spaces as well as viewers who bring their own experiences.

The collection presents spaces from two perspectives. Larger pieces address found spaces broadly and focus on sense of depth, interplay of light and shadow, and variations in color and texture. Smaller pieces view the same spaces in a more intimate way and give an impression of human associations and emotional contexts of spaces and objects. Sydik's goal is to open the viewers' eyes to the soul of these intimate spaces, encouraging viewers to discover and reflect upon the nuances of their own familiar intimate spaces.

The Hillestad Gallery is part of the Department of Textiles, Clothing and Design in the UNL College of Education and Human Sciences. The gallery is on the second floor of the Home Economics Building on East Campus, on 35th Street north of East Campus Loop. Hours are 8:30 a.m.-4 p.m. Monday-Friday and by appointment. Admission is free.

A reception for the "Platzgeist" exhibit is 3 p.m. June 13 at the gallery.
More details at: http://go.unl.edu/sgi