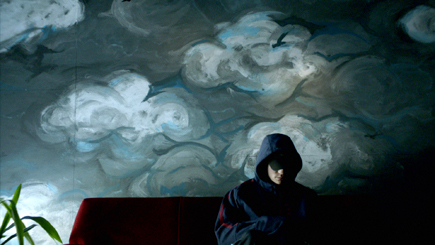 Documentaries "The Invisible War" which focuses on the epidemic of rape in the military, and "The Imposter", a story of a missing child and the mystery surrounding his return, open Friday at the Ross. The humorous romantic drama 'Celeste and Jesse Forever', which focuses on best friends (Rashida Jones and Andy Samberg) who stay incredibly close even after they divorce, continues for a second week.

Additionally, broadcast live from the stage of the National Theatre in London, "The Curious Incident of the Dog in the Night-Time" shows at the Ross 3 p.m. Sept. 9.

'The Invisible War' is not rated; 'The Imposter' is rated R for language; 'Celeste & Jesse Forever' is rated R for language, sexual content, and drug use. All three play through September 13.

The Invisible War is a groundbreaking investigative documentary about one of our country's most shameful and best kept secrets: the epidemic of rape within our US military. Today, a female soldier in Iraq and Afghanistan is more likely to be raped by a fellow soldier than killed by enemy fire with the number of assaults in the last decade alone in the hundreds of thousands. Focusing on the powerfully emotional stories of several young women, the film reveals the systemic cover up of the crimes against them and follows their struggles to rebuild their lives and fight for justice. The Invisible War features hard-hitting interviews with high-ranking military officials and members of Congress that reveal the perfect storm conditions that exist for rape in the military, its history of cover-up, and what can be done to bring about much needed change.

In The Imposter, documentary filmmaker Bart Layton uses vivid reenactments to tell the tale of a Texas family whose prayers are answered when their missing teenage son returns home after nearly four years, and the mystery that begins to emerge as the newcomer's actual identity comes into question. In 1994 a 13-year-old boy disappears without a trace from San Antonio, Texas. Three and a half years later he is found alive, thousands of miles away in a village in southern Spain with a story of kidnap and torture. His family is overjoyed to bring him home. But all is not quite as it seems. The boy bears many of the same distinguishing marks he always had, but why does he now have a strange accent? Why does he look so different? And why doesn't the family seem to notice these glaring inconsistencies? It's only when an investigator starts asking questions that this strange tale takes an even stranger turn..

The humorous romantic drama 'Celeste and Jesse Forever' focuses on best friends (Rashida Jones and Andy Samberg) who stay incredibly close even after they divorce. Also continuing for a final week is Sundance Grand Jury Prize winner "Beasts of the Southern Wild."

Celeste (Rashida Jones) and Jesse (Andy Samberg) met in high school, married young and are growing apart. Now 30, Celeste is the driven owner of her own media consulting firm, Jesse is once again unemployed and in no particular rush to do anything with his life. Celeste is convinced that divorcing Jesse is the right thing to do -- she is on her way up, he is on his way nowhere, and if they do it now instead of later, they can remain supportive friends. Jesse passively accepts this transition into friendship, even though he is still in love with her. As the reality of their separation sets in, Celeste slowly and painfully realizes she has been cavalier about their relationship, and her decision, which once seemed mature and progressive, now seems impulsive and selfish. But her timing with Jesse is less than fortuitous...

Mark Haddon's celebrated, multi-award-winning novel "The Curious Incident of the Dog in the Night-Time" is beautifully and imaginatively adapted into a stage play for the first time. Part of National Theatre Live – the best of British theatre broadcast live to cinemas worldwide.

Christopher, 15 years old, stands beside Mrs. Shears' dead dog, Wellington. It has been speared with a garden fork, it is seven minutes after midnight and Christopher is under suspicion. He records each fact in his book to solve the mystery. He has an extraordinary brain, exceptional at maths but ill-equipped to interpret everyday life. He has never ventured alone beyond the end of his road, he detests being touched and he distrusts strangers. But his detective work, forbidden by his father, takes him on a frightening journey that upturns his world.

For more information, go to http://www.theross.org or call 402-472-5353.
More details at: http://go.unl.edu/c7u