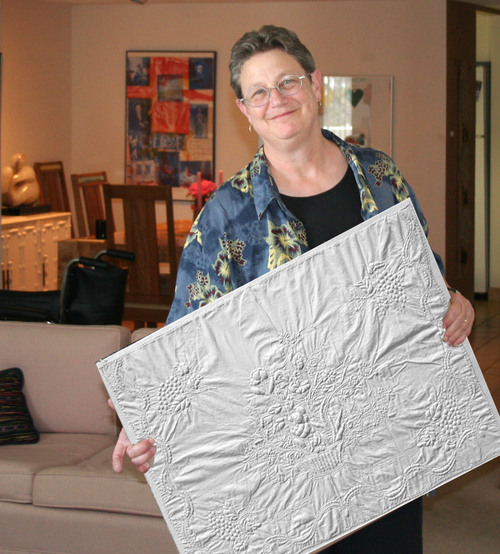 Julie Silber, one of the world's most respected quilt experts, will be at the Quilt Museum tonight to give an entertaining slide talk at 5:30 p.m., "Mark My Words."

Silber has been selling antique quilts to museums, businesses, and individuals since 1968. She was the curator of the Esprit Quilt Collection in San Francisco and is the co-author of the critically acclaimed books, "Hearts and Hands: Women, Quilts and American Society," and "Amish Quilts of Lancaster County," published in conjunction with the exhibition at the Fine Arts Museum, San Francisco.

'Mark My Words' is an illuminating and entertaining slide talk, with rare, wonderful examples of text AND textiles! Nearly from the start, some quiltmakers have incorporated the written word into their work.

Illustrating with slides and live examples, Silber will discuss a fascinating range of motives, techniques, and messages in quilts made as early as 1800 — and as recently as the day before yesterday.

This public program is underwritten by the Byron and Sara Rhodes Dillow Excellence Fund.

The event is free because it is First Friday -- which begins at 4:30 p.m.
More details at: http://www.QuiltStudy.org