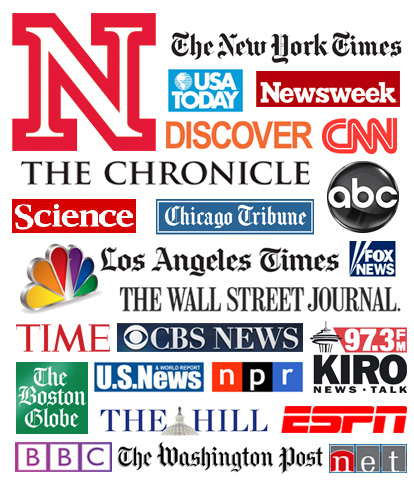 National media outlets featured and cited UNL sources on a number of topics in the past month. Appearances in national media included:

Namas Chandra, mechanical and materials engineering, had the Trauma Mechanics Research Initiative that he is leading appear in an Aug. 9 story in Popular Science.
http://go.unl.edu/3hf

Wheeler Winston Dixon, film studies, was quoted Aug. 2 by the Boston Globe on celebrities facing PR crises.
http://go.unl.edu/23o

Ismail Dweikat, agronomy and horticulture, was featured Aug. 9 on CBS News about the harvest potential of sorghum, particularly during a severe drought.
http://go.unl.edu/pxr

Sarah Gervais, psychology, had her research on how men and women are perceived appear in a number of media outlets in early August, including the Huffington Post and Prevention Magazine.
http://go.unl.edu/3fm
http://go.unl.edu/4wg

James Goecke and John Gates, earth and atmospheric sciences, were both quoted extensively in an Aug. 6 special report by the Washington Post on the Keystone XL and the Ogallala Aquifer.
http://go.unl.edu/ndu

Matthew Jockers, English, had his text-mining project that plotted the relationships between 3,500 18th- and 19th century novels featured by several outlets in mid-August, including New Scientist, WIRED, NBC News and Smithsonian Magazine.
http://go.unl.edu/rqz
http://go.unl.edu/ws4
http://go.unl.edu/civ
http://go.unl.edu/ov9

Bruce Johnson, agricultural economics, was quoted by United Press International on Aug. 29 about U.S. farm incoming rising despite persistent drought.
http://go.unl.edu/uy6

Faculty and staff at UNL's National Drought Mitigation Center continued to appear regularly in national and international media outlets as drought persisted in August. Mark Svoboda, Brian Fuchs, Mark Hayes were quoted in dozens of outlets throughout the month, including the New York Times, the Chicago Tribune, the Wall Street Journal, the Associated Press, NBC News, Reuters, the Kansas City Star and many others.
http://go.unl.edu/kxg
http://go.unl.edu/5am
http://go.unl.edu/46f
http://go.unl.edu/jru
http://go.unl.edu/956
http://go.unl.edu/ha4
http://go.unl.edu/wq3

Christal Sheppard, law, was quoted in the Wall Street Journal on Aug. 24 about Apple's legal victory over Samsung in a much-watched patent case. She was also quoted by the Dow Jones Newswire about the International Trade Commission's finding that Apple did not violate Google's patents. The story ran in several media outlets around the country.
http://go.unl.edu/ed7
http://go.unl.edu/q0d

Paul Steger, director of the Johnny Carson School of Theatre and Film, had his Houston-based production of Shakespeare's "The Comedy of Errors" reviewed by the Houston Chronicle.
http://go.unl.edu/6zi

Eric Thompson, economics, was quoted Aug. 17 by Associated Press about the state's unemployment rate topping 4 percent, and about UNL's Bureau of Business Research's economic indicators for the state.
http://go.unl.edu/xjw

David Wilson, associate vice chancellor for academic affairs; Ruth Lionberger, international projects manager; and Pat McBride, coordinator of student engagement; appeared in an Aug. 26 Associated Press story about UNL changing its programming to improve service to international students. Students Guman Singh, Mei Yee Ng and volunteer Beth Cordell were also quoted in the story, which ran in dozens of media outlets around the country.
http://go.unl.edu/vc9

National media often work with University Communications to identify and connect with UNL sources for the purpose of including the university's research, expertise and programming in published work. Faculty and administration appearances in the national media are logged at http://newsroom.unl.edu/inthenews/

To offer suggestions on potential national news stories or sources at UNL, contact Steve Smith at ssmith13@unl.edu or 402-472-4226.