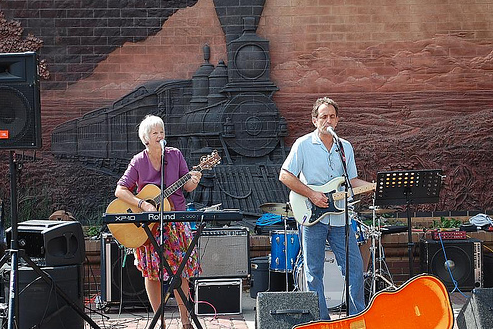 The Fountain Frolics summer concert series continues with "The Melody Wranglers" June 10 on the Nebraska Union Plaza.

Fountain Frolics concerts are noon to 1 p.m. every Thursday through July 29 (except July 1). UNL's University Program Council sponsors local musical entertainment and sells a picnic lunch of a hot dog, chips and a Pepsi product for $4 under the north overhang of the Nebraska Union.

"The Melody Wranglers" play old-style country western, swing and honky-tonk music. Their influences include Hank Williams, Patsy Cline, Bob Wills, Buck Owens, Dolly Parton and Merle Haggard. Band members are Randy Barger (guitar and vocals), Pam Barger (keyboards and vocals), Jim Pipher (bass and vocals) and Dell Darling (drums), Each member of the group has more than 30 years of professional music experience.

Other concerts in the Fountain Frolics schedule include:

June 17 - Cronin Bros; June 24 - The Toasted Ponies; July 8 - The Lightning Bugs; July 15 - The Resonators; July 22 - Nebraska Jazz Combo; and July 29 - Broad Appeal

For more information, go to http://involved.unl.edu.
More details at: http://go.unl.edu/e5x