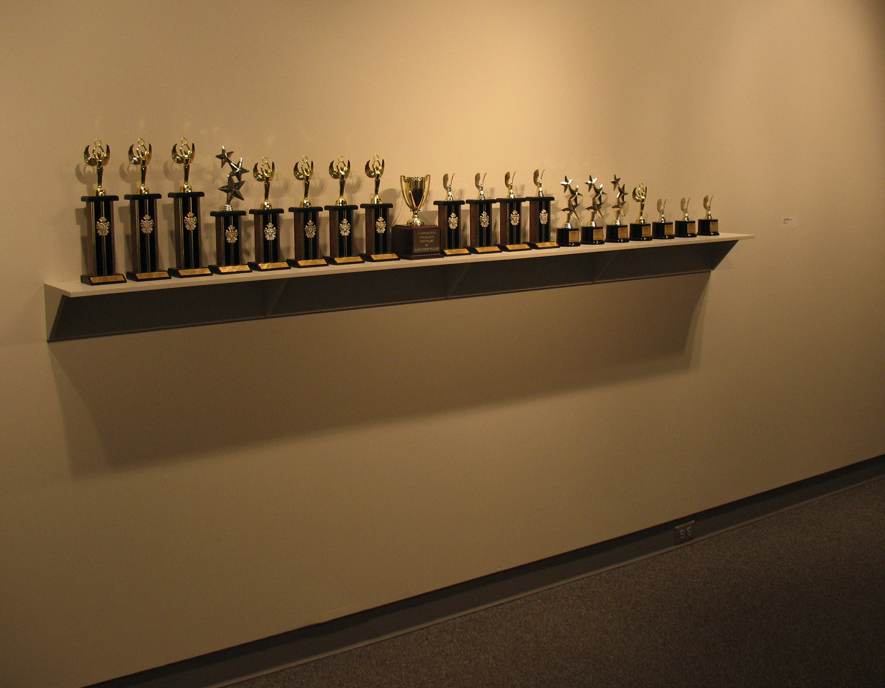 "Work Makes the Work," an exhibition curated by assistant professor of digital arts Jeff Thompson, is on display at the Eisentrager-Howard Gallery through Feb. 18.

"Work Makes the Work" is an exhibition of artworks for which the act of making - the labor, process or enactment - is as important, if not more, than the aesthetic object created. Instead of being completely dematerialized, however, the works in this exhibition are conceptual constructs, as well as more traditional "stand-alone" artworks.

In notes accompanying the exhibition, Thompson wrote, "The curatorial process and installation of this exhibition also represents a privileging of labor: some of the included artists were found the traditional way (i.e. by having seen their work in the past), but also through a daily practice of combing the internet. This show also includes pieces re-created from historical instructions by Marcel Duchamp and Lawrence Weiner, as well as an industrial product and a natural object."

The exhibition features works by: What We Know So Far (Patrick Davison and Mike Rugnetta), Aleksandra Domanovic, Christoph Korn, Guthrie Lonergan, Kyle McDonald, Wyatt Nash, Craig Olson, Trevor Reese, Ed Reilly, Jeff Schmuki, Joshua Schwartz, Thomas Thwaites, Lance Wakeling and Ryan Watkins-Hughes.

Two of the artists will be on campus in February to give a public lecture and do studio visits.

Wakeling, a studio artist from Brooklyn, N.Y., will give a public lecture at 6 p.m., Feb. 7 in Richards Hall, room 15. Reese, a studio artist from Philadelphia, Pa., will deliver a public lecture at 5:30 p.m., Feb. 15 in Richards Hall room 15. Both lectures are free and open to the public.

Wakeling's piece in the exhibit is "Untitled (Reference Library)." He uses an internet-based trophy-making service to create trophies, one for each book the artist read in 2010.

Reece's piece in the exhibition is "Wake Without Worry." The physical work exists as a small houseplant on a very high shelf. Gallery attendants are asked daily to bring out a ladder, water the plant and put the ladder away.

The Eisentrager-Howard Gallery is open Monday-Thursdays, noon to 4 p.m. It is located in Richards Hall. For more information, call 472-5522.