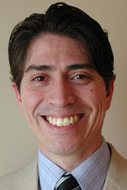 Sergio Wals, assistant professor of political science and ethnic studies, is among those recently honored as part of the Nebraska Hispanic Heritage Month State Commemoration.

Wals was presented with the 2012 Inspiration Award during a special ceremony hosted by the Nebraska Latino American Commission on Oct. 5 at the Capitol. His students nominated him for the honor, which recognizes his efforts going above and beyond promoting diversity and helping individuals within the Hispanic community.
Among other criteria, the Inspiration Award is annually given to an individual who has improved opportunities for academic and social advancement among Hispanic youth and who serves as a role model to Nebraskans of all ages.

Presiders at the event included the executive director of the Nebraska Latino American Commission, Lazaro Spindola; Governor Dave Heineman; first lady Sally Ganem; and Consul of Mexico in Omaha, Jorge Espejel. The keynote speaker for the event was Juan Franco, vice chancellor for student affairs at UNL.