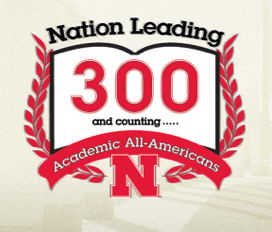 Senior I-back Rex Burkhead and senior linebacker Sean Fisher were named to the Capital One Academic All-America Division I football team on Thursday, as chosen by the College Sports Information Directors of America. Both players are repeat honorees on the academic All-America team.

The selection of Burkhead and Fisher allowed Nebraska to reach an unprecedented milestone. Burkhead and Fisher become Nebraska's 300th and 301st all-time Academic All-Americans across all sports, making Nebraska the first school across all divisions to reach that milestone. Notre Dame is second with 227 Academic All-Americans all-time. No other school has reached 200 Academic All-Americans.

Burkhead was a first-team selection for the second consecutive year, while Fisher earned second-team honors for the second straight year. With its two Academic All-Americans, Nebraska was one of only eight schools to have two or more players on the Division I team. Northern Illinois had three players honored, while Nebraska was one of seven schools with two players selected.

In football alone, Nebraska now has a nation-leading 68 first-team CoSIDA Academic All-America selections in football, including 15 double winners. Burkhead's first-team selection marks the second straight year Nebraska has had a two-time first-team academic All-American, joining Austin Cassidy who achieved that status in 2010 and 2011. Overall, Nebraska increased its total to 104 CoSIDA Academic All-Americans when including 36 second- or third-team honorees. Notre Dame is second in football Academic All-Americans with 58.

Burkhead carries a 3.448 cumulative grade-point average majoring in history and is scheduled to graduate next week, completing his undergraduate work in just 3 and a half years. Burkhead ranks fifth in Nebraska history with more than 3,200 career rushing yards. Burkhead is the second running back in school history to be a two-time first-team Academic All-American, joining fullback Joel Makovicka who accomplished the feat in 1997 and 1998.

Fisher continues to excel as one of the nation's top student-athletes. A graduate of Millard North High School, Fisher carries a perfect 4.0 grade-point average in business administration/pre-medicine. On the field, Fisher was a key element for the Husker defense in 2012, registering 47 tackles in his senior season. As a two-time second-team selection, Fisher is one of 26 Husker football players who have earned Academic All-America honors in multiple years.

Burkhead and Fisher were two of four Nebraska players to earn CoSIDA Academic All-District VII honors in November, earning a spot on the national ballot. Offensive guard Spencer Long and tight end Jake Long also earned all-district honors and Nebraska's four academic all-district picks were second in the nation, and tied for first among FBS schools.

The two CoSIDA Academic All-America selections in 2012 give Nebraska eight football Academic All-Americans in Head Coach Bo Pelini's first five seasons. In addition to Burkhead and Fisher's selections, receiver Todd Peterson and linebacker Tyler Wortman were second-team selections in 2008, while Cassidy was a first-team pick in both 2010 and 2011.