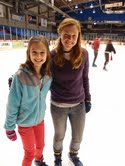 The Nebraska Human Resources Institute, a strengths-based mentoring program at UNL, is seeking new student mentors. Orientation sessions are 7 to 8 p.m. Thursdays, Jan. 17 to March 14, in CBA room 141. Faculty and staff can nominate students to become mentors by sending them to an orientation session.

The NHRI is part of UNL's Agricultural Leadership, Education and Communication department. The program selects outstanding college student leaders and places them in a one-on-one relationship with an identified K-12 student leader in the Lincoln Public School system.

For more information, go to http://www.nhri.org, send email to jack.ehrke@gmail.com or call 402-472-3989.