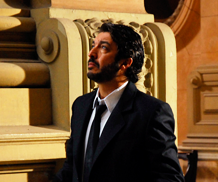 The Mary Riepma Ross Media Arts Center opens two new films, "The Secret in their Eyes" and "Mid-August Lunch" on June 18.

Winner of numerous prizes at international film festivals, "Mid-August Lunch" (not rated, showing through June 24) tells the story of unlikely friendships forged during the Feast of the Assumption, Italy's biggest summer holiday. The film stars and is the directorial debut of Gianni Di Gregorio.

Broke, and armed with only a glass of wine and a wry sense of humor, middle-aged Gianni resides with his 93-year-old mother in their ancient apartment. The condo debts are mounting, but if Gianni looks after the building manager's mother during the Feast of the Assumption, all will be forgiven. However, Gianni's work gets more difficult as the manager shows up with an aunt and a doctor friend brings his mother.

The tale of good food and feisty ladies unfolds as Gianni struggles to keep the four ladies well fed and happy in the cramped quarters of the condo.

"Mid-August Lunch" was named Best First Film at Venice and the Satyajit Ray Award in London, plus earned the Golden Snail at the Academy of Food and Film in Bologna.

"The Secret in their Eyes" (rated R and showing through July 1) won the Academy Award for Best Foreign Language Film. Directed by Argentinean writer/director/editor Juan Jose Campanella, the film interweaves the personal lives of a state prosecution investigator and a judge with a 25-year manhunt.

Recently-retired criminal court investigator Benjamin (played by Ricardo Darin) decides to write a novel based on a 25-year-old unresolved rape/murder that still haunts him.

Benjamin shares his plans with Irene (Soledad Villamil), the judge and former colleague he has secretly been in love with for years. The search for the truth will put Benjamin in the center of a judicial nightmare as the mystery unfolds and test the limits of a man seeking justice and personal fulfillment.

For more information on films at the Ross, go to http://www.theross.org or call the 472-5353.
More details at: http://www.theross.org