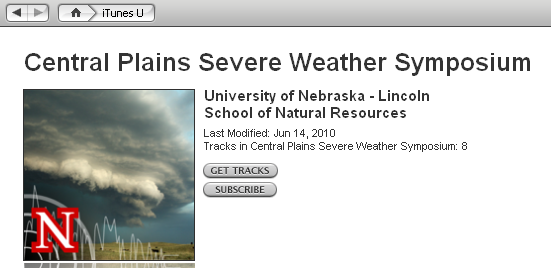 Thousands of people are using iTunesU to access podcasts featuring presentations from the 2010 Central Plains Severe Weather Symposium.

The podcast from the event, held in March at UNL's School of Natural Resources, is among the most popular podcast on iTunesU and is UNL's top offering on the podcast site. The event podcast includes eight videos.

The most popular is "Tornadoes Impacting Interstates," featuring Scott Blair, a forecaster with the National Weather Service in Topeka, Kan. In the video, Blair offers new advice on what to do if you encounter a tornado while driving. He also details the shortcomings of the old "take shelter in a ditch" approach.

Mike Kamm, a UNL electronic specialist, said that about 1,500 people have downloaded the podcast from UNL's servers. The podcast has also been downloaded many times through iTunesU servers.

Ken Dewey, the climatologist who launched the 10-year-old weather symposium, this year for the first time arranged for it to be videotaped. The videographer was Gregg Hutchison, a computer support technician in the School of Natural Resources.

The videos are available either through iTunesU or http://go.unl.edu/pmq.

More details at: http://go.unl.edu/pmq