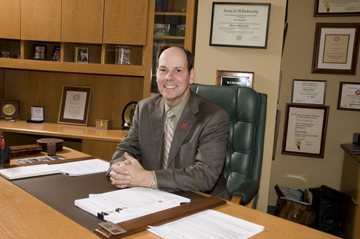 David Allen has accepted appointment as dean of the newly formed College of Engineering and Computer Science at the University of Texas-Pan American.

Allen recently resigned his post as dean of UNL's College of Engineering effective June 30 with the intention of rejoining UNL faculty. He has resigned from UNL effective July 31, and will assume the new post Aug. 1.

UTPA, with 18,340 students, is located in Edinburg, Texas, in the southern tip of Texas known as the Rio Grande Valley. Last year, UTPA split its College of Science and Engineering into two separate colleges, the one Allen will lead and a separate College of Science and Mathematics.

In a news release from UTPA, Allen said he was excited about developing a college "from the ground up," and was looking forward to input from faculty and from local citizens about the future of the college. Allen said the UTPA job was attractive because the college is growing and its academic quality is increasing. He also looked forward to promoting engineering careers in the public schools.

Javier Kypuros, an associate professor of mechanical engineering, chaired UTPA's search committee. He said Allen was chosen as one of the finalists because of his experience, his personality and "his excitement to serve the mission and advancement of the new College of Engineering and Computer Science."

Allen came to UNL in 2002 after serving as a faculty member at Texas A&M University. He is a professor of engineering mechanics. A Dallas native, he said he and his wife are excited to be returning to his native state.