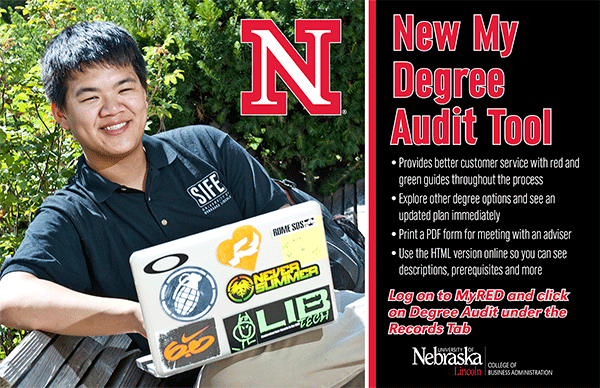 UNL academic advisers are using the new "My Degree Audit" tool to track student progress toward graduation. The tool replaces the Degree Audit Reporting System.

"My Degree Audit is a computer-generated report outlining the academic progress of undergraduates," William Watts, director of campus advising, said. "Using this audit process will facilitate a richer experience between students and advisers as they make important academic decisions."

Benefits of using My Degree Audit include:

— Providing better customer service with red and green guides throughout the process
— Allowing students to explore alternative degree options and see an updated plan immediately
— Offering two options to view the audit with an adviser: through a printable PDF document or online through an HTML version.

"The new degree audit is great and really helps you visually see where you are at with your degree requirements," Justine Bolton, a sophomore in the College of Education and Human Sciences, said. "I am excited for the select program or 'what if' option that allowed me to see what my degree audit would look like if I decided to switch majors. Also the ability to see course descriptions straight from the audit is a huge help when picking courses to take. Overall the new system will make things easier."

Degree audits are available through signing in to MyRED and clicking "Degree Audit" under the "Records" tab. My Degree Audit does not replace the Undergraduate Bulletin as a resource for requirements.