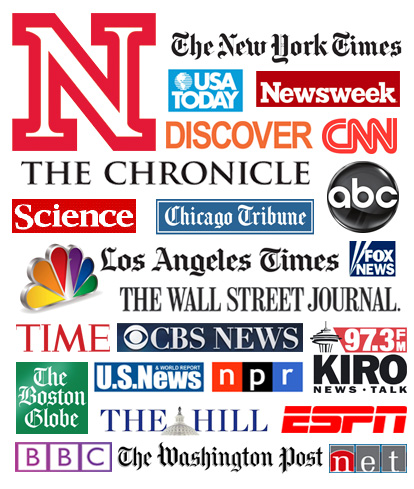 National media outlets featured and cited UNL sources on a number of topics in the past month. Appearances included:

Wheeler Winston Dixon, film studies, was quoted extensively throughout February on a variety of topics, including the Academy Awards. Appearances included a half-hour discussion on Film Buff's Forecast with Paul Harris on Triple R Radio in Melbourne, Australia on Feb. 16; a live-chat panel for Canada.com on Feb. 22; in Patheos.com on Feb. 14; in PBS NewsHour on Feb. 24; and in the Christian Science Monitor on Feb. 24.
http://go.unl.edu/dh8
http://go.unl.edu/47h
http://go.unl.edu/2di
http://go.unl.edu/h3i

Gwendolyn Foster, film studies, was quoted Feb. 25 by The Christian Science Monitor about the surprises in this year's telecast of the Academy Awards.
http://go.unl.edu/nqp

Brian Fuchs, climatologist at the National Drought Mitigation Center, was quoted in the New York Times on Feb. 22 about the lack of snowpack in the west and what it might portend for the summer drought. He and other Drought Center climatologists were quoted regularly in February in outlets ranging from the Milwaukee Journal Sentinel to The Associated Press to United Press International to USA TODAY.
http://go.unl.edu/svo
http://go.unl.edu/4bi
http://go.unl.edu/u7a
http://go.unl.edu/ggg
http://go.unl.edu/vwf

Bridget Goosby, sociology, had her research into the pathways from childhood conditions to adult health outcomes featured by a number of media outlets in late February, including Yahoo! News, Psych Central and Science Daily.
http://go.unl.edu/mym
http://go.unl.edu/8ni

Richard Graham, University Libraries, had his 2011 anthology "Government Issue: Comics for the People" cited in a Feb. 28 Reason Magazine article on how the government turned comic books into propaganda.
http://go.unl.edu/93d

Ronnie Green, IANR vice chancellor, and Ron Yoder, IANR associate vice chancellor, were quoted in a Feb. 15 article in The Chronicle of Higher Education featuring IANR's new plan to hire 36 new tenure-track faculty.
http://go.unl.edu/avm

John Hibbing, political science, was quoted by CNN on Feb. 2, the day Nebraska Lt. Gov. Rick Sheehy abruptly stepped down, about what the resignation meant for the upcoming governor's race.
http://go.unl.edu/in7

Jinsong Huang, mechanical and materials engineering, had his research into producing efficient, affordable, flexible solar energy materials featured Feb. 22 by the National Science Foundation's Discovery News.
http://go.unl.edu/ses

Matthew Jockers, English, had his text-mining-of-books research featured Feb. 3 by the Sunday Times of London. Later in the month, the Associated Press wrote about his leadership of a new research collaboration with private company BookLamp to text-mine data from 20th century books. The story ran in dozens of media outlets around the country.
http://go.unl.edu/kmc
http://go.unl.edu/3zn

Allan McCutcheon, survey research and methodology, was quoted in an Associated Press article on Feb. 23 about how polls are used to predict elections, in advance of an event at the UNL Great Plains Art Museum. The story appeared in dozens of media outlets around the country.
http://go.unl.edu/0jo

David Moshman, educational psychology, published an opinion column about anti-censorship resources for educators Feb. 8 in the Huffington Post.
http://go.unl.edu/nu8

Eric Thompson, economics, was quoted by The Associated Press in early February after Nebraska economic forecasters predicted modest economic growth in 2013. The story appeared in dozens of media outlets around the country.
http://go.unl.edu/wxh

Matthew Waite, journalism, was quoted regularly in February as national debate over the role of domestic drones began to heat up. Appearances included the Christian Science Monitor, CNN, Fast Company and US News & World Report.
http://go.unl.edu/smu
http://go.unl.edu/kch
http://go.unl.edu/t0f
http://go.unl.edu/bu2

This is a monthly column featuring UNL faculty, administrators and staff in the national news. National media often work with University Communications to identify and connect with UNL sources for the purpose of including the university's research, expertise and programming in published or broadcasted work. 



Faculty, administration, student and staff appearances in the national media are logged at http://newsroom.unl.edu/inthenews/



If you have additions to this list or suggestions for national news stories, contact Steve Smith at 402-472-4226 or ssmith13@unl.edu.