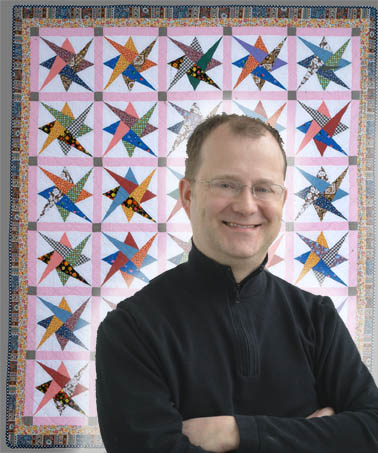 Jonathan Gregory will give a lecture on Ernest Haight, an NU graduate and engineering who also quilted, at 5:30 p.m., today at the International Quilt Study Center and Museum. The First Friday lecture, "The Engineer Who Could: The Quiltmaking of Ernest B. Haight" is free and open to the public.

Haight graduated from the University of Nebraska in 1924 with a degree in engineering. He spent his career farming land near David City homesteaded by his grandparents. He also made at least 300 quilts between 1935 and 1985.

Haight approached quilt-making like he was solving puzzles, working out time saving innovations and processes that resulted in precise and complex geometric quilts. Many of his designs received national recognition. He also published an early book on the technique of machine quilting.

Gregory, an assistant curator of exhibitions at the IQSC and a UNL graduate student, is researching the quilting of Haight. He is also the most recent recipient of the Lincoln Quilters Guild scholarship.

The lecture is sponsored by the Lincoln Quilters Guild.

The lecture will be followed by a reception. Both events are free and open to the public. Admission to the museum is always free for UNL faculty, staff and students (with a valid NCard). Admission to the First Friday event, 5 to 7 p.m., March 4, will also be free to the public.

For more information, go to http://www.quiltstudy.org.
More details at: http://www.quiltstudy.org