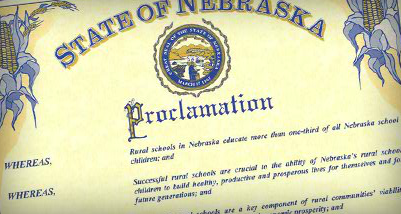 With support from the Center for Great Plains Studies and UNL's National Center for Research on Rural Education (R²Ed), Gov. Dave Heineman has proclaimed April 1-6 as Rural Education Week in the state.

Center for Great Plains Director Richard Edwards and R²Ed Director Susan Sheridan joined Peter Longo, professor of political science at the University of Nebraska at Kearney, in requesting the proclamation.

Its signing sets the stage for two events that will address education in rural communities throughout the Cornhusker State and beyond.

From April 3-4, R²Ed will assemble researchers, practitioners and policymakers from across the country to discuss factors influencing the academic success of rural K-12 students at a conference to be held in Omaha. Titled "Connect-Inform-Advance," the conference will foster research-based dialogue about the interrelated impacts of teaching, family engagement, community involvement, school environment and contextual factors on rural student performance.

The Center for Great Plains Studies will host its 39th interdisciplinary symposium, "Gains and Losses from School Consolidation in the Great Plains," April 5-6 in Kearney. The symposium will explore the causes, consequences, opportunities and challenges of school consolidation, with presenters and panelists examining issues ranging from classroom instruction and student learning to district demographics and economic realities.

"The week will represent an unprecedented recognition of the essential role that strong schools play in rural Nebraska," UNL's Sheridan said. "I can't think of a better way to celebrate Rural Education Week in Nebraska than by welcoming nationally renowned researchers, policymakers and practitioners."

For more information, go to http://r2ed.unl.edu/2013.

Details on "Gains and Losses from School Consolidation in the Great Plains" can be found at http://www.unl.edu/plains.