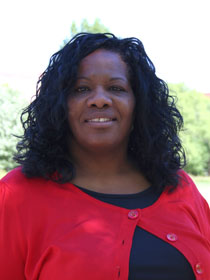 Reshell Ray, associate director of student involvement and assistant manager of the Nebraska East Union, was recently awarded the 2013 Patsy Morley Outstanding Programmer Award at the National Association for Campus Activities national convention in Nashville.

Ray was presented a plaque by colleague and nominator Karen Freimund Wills, University Program Council coordinator at UNL.

The award was established to honor those who best exemplify outstanding achievement in campus activities advisement. The annual award honors the late Patsy Morley, a former chair of the NACA Board of Directors, who died in 1981.

"I do what I do because of the students," Ray often says.

Through her efforts to strengthen community for students living on and off campus by starting new and innovative programs, participation has more than doubled since she became assistant director for East Campus programs and services.

Now an associate director of student involvement, Ray is dedicated to producing well-attended events, as well as ones that contribute academically and socially to the college experience.
More details at: http://go.unl.edu/i6c