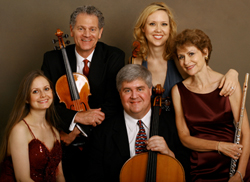 Led by NPR commentator and violist Miles Hoffman, the American Chamber Players will perform an evening of trios and quartets for strings, flute, and piano at 8 p.m. April 20 in the Sheldon Museum of Art.

The event opens with a pre-concert lecture at 7:30 p.m. in Sheldon's Ethel S. Abbott Auditorium. The concert is followed by a reception with food, beverages, and an opportunity to meet the performers.

Tickets are $35 general admission and $8 for students. A $5 discount is available NET Radio members (with a valid membership card).

For more information, go to http://www.sfcm.info or call 402-435-5454.