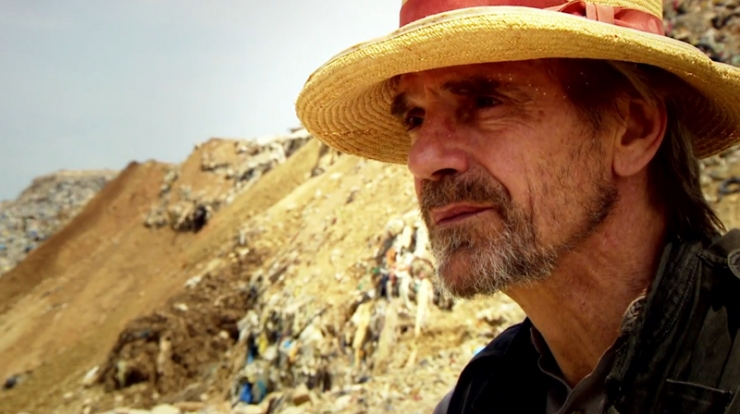 The documentary "Trashed" starring Jeremy Irons and the Romanian drama "Beyond The Hills" open today at the Mary Riepma Ross Media Arts Center. Also continuing for a second week is director Danny Boyle's kinetic thriller "Trance."

"Trashed" and "Beyond The Hills" are not rated and play through April 25. "Trance" is rated R and plays through May 2.

"Trashed — No Place for Waste" examines risks to the food chain and the environment through pollution of the air, land and sea. The film reveals surprising truths about immediate and potent dangers to the health of consumers. "Trashed" features a global conversation and ends on a message of hope for the future.

"Beyond the Hills" follows Alina, a young, fiery orphan who is fiercely protective of the more fragile Voichita.

Now, as a nun-in-training, Voichita (Cosmina Stratan) has devoted her life to God. Stern priest Papa (Valeriu Andriuta) is determined to ensure that Voichita and the rest of the women under his watch remain on a righteous path when Alina (Cristina Flutur) shows up on a mission to bring her old friend back to Germany.

When Voichita proves reluctant to leave the monastery, Alina decides to remain there in hopes she will eventually change her mind. Meanwhile, Papa has grown convinced that Alina has been possessed by demonic forces, and that it's his divine mission to exorcise her of them.

In "Trance," James McAvoy plays Simon, a fine art auctioneer who teams up with a criminal gang to steal a Goya painting worth millions of dollars. During the heist, Simon suffers a blow to the head and awakens to discover he has no memory of where he hid the painting.

When physical threats and torture fail to produce answers, the gang's leader hires hypnotherapist Elizabeth Lamb (Rosario Dawson) to delve into the dark recesses of Simon's psyche. As Elizabeth begins to unravel Simon's broken subconscious, the lines between truth, suggestion and deceit begin to blur.

"Trance" re-teams Oscar-winning "Slumdog Millionaire" director Danny Boyle with "Trainspotting" and "Shallow Grave" screenwriter John Hodge.

For more information, go to http://www.theross.org or call 402-472-5353.