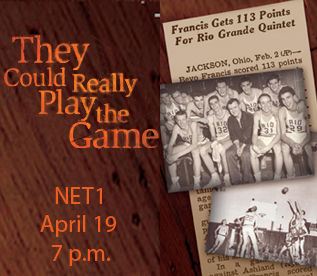 An updated version of the award-winning documentary "They Could Really Play the Game" shows at 7 p.m. April 19 on NET1 and NET-HD, Nebraska's public broadcasting television station.

Barney McCoy, associate professor of broadcasting, produced the documentary. Bruce Mitchell, a lecturer in advertising, was primary videographer, while other Journalism and Mass Communications faculty contributed voiceovers.

The documentary revisits one of the greatest stories in American sports history. In 1952, the Rio Grande Redmen's basketball team – a perennial loser – began defeating opposing colleges big and small, saving their college from closing and setting NCAA scoring records that stand today.

In just two seasons, the Redmen went from playing in small, empty gyms to packed houses in Madison Square Garden and the Philadelphia Arena. Led by a fiery coach named Newt Oliver and a tall, skinny country boy called Clarence "Bevo" Francis, the Redmen won 40 straight. During the run, the squad averaged more than 100 points a game with Francis leading the nation in scoring.

Vintage film and Dave Diles, a former ABC sports anchor who covered the team as an Associated Press reporter, tell the story of the coach and players from the Redmen's games in the 1950s.

The documentary has received two awards: a Golden Ace award from the 2009 Las Vegas International Film Festival; and the Broadcast Education Association's 2009 Best of Competition Award in the Faculty Long Form Documentary category. "They Could Really Play the Game" also received an Ohio Valley regional Emmy Award nomination in 2009.

The documentary showed on NET in August 2011. The re-released version has been updated and digitally reproduced for the April 19 broadcast on NET1.

McCoy and Mitchell worked on the documentary in collaboration with WOSU-TV and Painted Rock Productions. UNL's College of Journalism and Mass Communications provided additional production support.

Clips of the documentary are available at http://go.unl.edu/s8a and http://go.unl.edu/8zu.