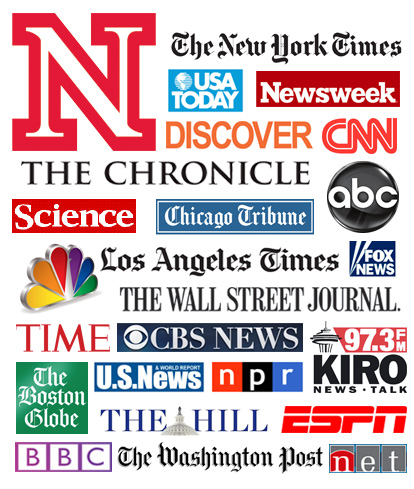 National media outlets featured and cited UNL sources on a number of topics in the past month. Appearances included:

Wheeler Winston Dixon, film studies, was quoted in a May 25 story in the Los Angeles Times about the product placement Google enjoys in the new motion picture "The Internship."
http://go.unl.edu/s8b

Courtney Hillebrecht, political science, co-authored a May 14 op-ed for CNN.com about President Obama's varying view on humanitarian intervention in Syria.
http://go.unl.edu/y9y

Mark Hinze, extension, was quoted by The Associated Press on May 25 about a UNL course teaching teens to safely handle farm equipment.
http://go.unl.edu/h49

Adam Houston, Earth and atmospheric sciences, was quoted May 21 in an Associated Press national story about the power unleashed by the May 20 tornado that ravaged Moore, Okla. Houston also spoke with several radio outlets in the United States and Canada following the storm.
http://go.unl.edu/0mi

Bob Hutkins, food science and technology, was interviewed by NPR's "Talk of the Nation" on May 3 about fermentation.
http://go.unl.edu/7np

Andrew Jewell, UNL Libraries and English, continued to have his new book, "The Selected Letters of Willa Cather," covered and reviewed in May. Outlets providing coverage included the Boston Globe, the New York Times Sunday Book Review and the Christian Science Monitor.
http://go.unl.edu/4ue
http://go.unl.edu/m2t
http://go.unl.edu/wqe

Sally Mackenzie, plant science, was interviewed about her genetic plant research on May 24 on NPR's Science Friday show about reinventing farming for a changing climate.
http://go.unl.edu/6pi

David Moshman, educational psychology, wrote a pair of columns for The Huffington Post in May – one on May 15 about "Speaking Up and Talking Back," the result of a research project focused on media, empowerment and democracy in East Africa, and one on May 24 about sexual harassment and academic freedom.
http://go.unl.edu/5xf
http://go.unl.edu/45u

Climatologists at the National Drought Mitigation Center at UNL were quoted regularly throughout May as severe drought conditions began to recede in many areas of the country. UNL climatologist Mark Svoboda appeared on C-SPAN on May 16 as part of an event that included officials from NOAA, the USDA and the U.S. Forest Service on the summer drought outlook. Svoboda also was quoted by PBS NewsHour on May 16 about where drought would likely persist in the summer.
http://go.unl.edu/f6a
http://go.unl.edu/o2a

The Sheldom Museum of Art's "Naked Museum" activities were featured in several media outlets in early May, including a feature in the Wall Street Journal on May 8 and by The Associated Press on May 4.
http://go.unl.edu/5xt
http://go.unl.edu/p8i

Research into buckminsterfullerene, or "buckyballs," conducted by Xiao Zeng, chemistry, was featured in the May edition of National Geographic Magazine.
http://go.unl.edu/jax

This is a monthly column featuring UNL faculty, administrators and staff in the national news. National media often work with University Communications to identify and connect with UNL sources for the purpose of including the university's research, expertise and programming in published or broadcasted work. 





Faculty, administration, student and staff appearances in the national media are logged at http://newsroom.unl.edu/inthenews/





If you have additions to this list or suggestions for national news stories, contact Steve Smith at ssmith13@unl.edu or 402-472-4226.

More details at: http://go.unl.edu/8t9