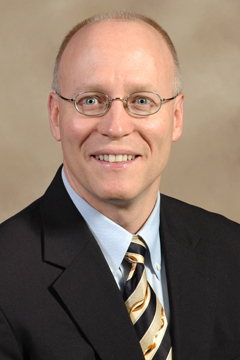 Joe Turner, professor of mechanical and materials engineering, has received a Friedrich Wilhelm Bessel Research Award from the Alexander von Humboldt Foundation in Germany.

The award (worth approximately $60,000) will allow Turner to conduct research with his nominator, Konrad Samwer, professor at the University of Goettingen. Turner and Samwer will focus on the application of contact resonance atomic force microscopy and nano-indentation to map elastic and anelastic properties of bulk metallic glasses near stress concentrations.

Turner said the collaborative research opportunity could lead to advances in the failure-resistance of materials used in electronics and bio-implants.

Turner also plans to establish additional research connections with other German labs.

"I'm honored to have been chosen for this award and I'm excited about the research collaborations to be established," said Turner.

The Humboldt Foundation grants up to 25 Friedrich Wilhelm Bessel Research Awards annually to promote international scientific cooperation. Award winners are chosen for their outstanding research record and are invited to spend a period of up to one year cooperating on a long-term research project with specialist colleagues at German research institutions.